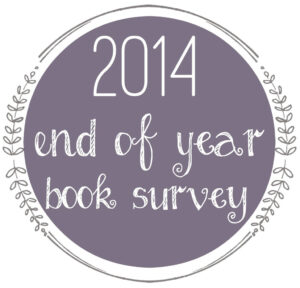 2014 has been quite a year, and not necessarily a good one. I'm so excited that it's finally the holiday season, and that I have some time to look back over my reading for the year. I've read fewer books, but more of them have been excellent than ever before.
Best Books in 2014
1. Best book you read In 2014?
Like I could pick just one.
2. Book you were excited about & thought you were going to love more but didn't?
The Book of Madness and Cures and Lady Molly of Scotland Yard were kind of "blah," and Heads in Beds and The Copper Sign should have been tossed out a window.
3. Most surprising (in a good way!) book of 2014?
Even though I love Doris Kearns Goodwin, I was worried that The Bully Pulpit was going to be a little dull. I didn't know much about Roosevelt and Taft, and wasn't sure it would be interested. As usual, though, I underestimated Goodwin.
4. Book you read and recommended to people most in 2014?
It's a toss-up between J.J. Abrams and Doug Dorst's S and Ian Mortimer's The Time Traveler's Guide to Medieval England. Both are incredibly fascinating and I would love to talk with someone about them!
5. Best series you discovered in 2014?
Pegasus Books sent me a copy of The Mangle Street Murders, which features a seemingly heartless bastard of a "private detective" and his stubborn niece. I'll be getting an advanced copy of the second in the series soon, and I'm so excited!
6. Favorite new author you discovered in 2014?
Terry Goodkind's books have been around for decades, but Best Friend gave me a copy of Wizard's First Rule and now I'm a little obsessed with the entire series.
7. Best book that was out of your comfort zone or was a new genre for you?
8. Most thrilling, unputdownable book in 2014?
The Seeker kept me up until 2am (and then I was too scared to sleep), and I read S twice in the period of a week.
9. Book You Read In 2014 That You Are Most Likely To Re-Read Next Year?
I may not re-read it all the way through, but I'll probably skim through The Time Traveler's Guide to Medieval England again. It's an easy book to pick up and start reading anywhere.
10. Favorite cover of a book you read in 2014?
Look at these!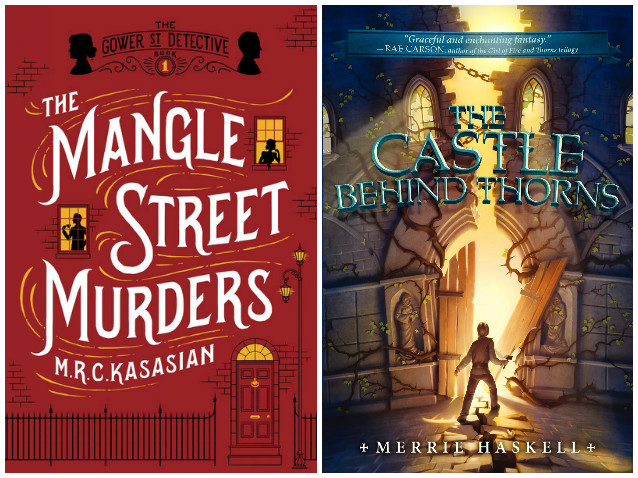 11. Most memorable character in 2014?
Kahlan Amnell from Terry Goodkind's Wizard's First Rule. She's strong and brave, and has an interesting backstory in a fascinating world.
12. Most beautifully written book read in 2014?
The All-Girl Filling Station's Last Reunion was both hysterical and heartbreaking.
13. Book that had the greatest impact on you in 2014?
I read a lot of great books this year, but the one that stuck with me the most was actually The Copper Sign, the most eye-rollingly stupid novel I read all year.
14. Book you can't believe you waited until 2014 to finally read?
I tend to cycle through my TBR list fairly quickly, so there isn't one particular book I found myself thinking, "Why did I wait so long to read this?"
15. Favorite passage/quote from a book you read in 2014?
Listening to This I Believe gave me a bunch of great quotes to love, but this one is my favorite:
I believe in the absolute and unlimited liberty of reading. I believe in wandering through the stacks and picking out the first thing that strikes me. I believe in choosing books based on the dust jacket. I believe in reading books because others dislike them or find them dangerous. I believe in choosing the hardest book imaginable. I believe in reading up on what others have to say about this difficult book, and then making up my own mind.
16. Shortest & longest book you read in 2014?
17. Book that had a scene in it that had you reeling and dying to talk to somebody?
Definitely S — the entire novel. Read this so we can talk about it!
18. Favorite relationship from a book you read in 2014 (be it romantic, friendship, etc)?
The Mangle Street Murders features Sidney Grice — snobby "private detective" — and his niece March Middleton. Their relationship starts off a little rocky, and I think it's going to be fun to see what happens.
19. Favorite book you read in 2014 from an author you've read previously?
No Ordinary Time, Doris Kearns Goodwin
20. Best book in 2014 you read based solely on a recommendation from someone else?
I got a free copy of The Seeker from Pegasus Books, and trusted their recommendation. Boy, were they right!
21. Genre you read the most from in 2014?
Somewhat surprisingly, history. I've always loved it, but in the last couple of years have been reading more fantasy type stuff. It's been a nice change.
22. Newest fictional crush from a book you read in 2014?
Richard Cypher from Wizard's First Rule. And kind of on Kahlan as well. And to be honest, on Denna as well.
23. Best 2014 debut you read?
The Seeker, definitely.
24. Most vivid world/imagery in a book you read in 2014?
Wizard's First Rule has some amazing world building, from Confessors to Mord-Sith and magic and Sword of Truth and a million other things. It's intimidating that there's more than a dozen books in the series, but I really want to continue reading.
25. Book that was the most fun to read in 2014?
Reading The Seeker scared the shit out of me, and it was awesome.
26. Book that made you cry or nearly cry in 2014?
The All-Girl Filling Station's Last Reunion, for sure.
27. Book you read in 2014 that you think got overlooked this year (or the year it came out)?
I don't pay too much attention to what other people say about the books I read.
Looking Ahead
1. One book you didn't get to in 2014 but will be your biggest priority in 2015?
I got a copy of J.A. Kazimer's Froggy Style from PaperBack Swap, and just haven't had a chance to pick it up yet.
2. Book you are most anticipating for 2015 (non-debut)?
Even several months after my visit to South and North Carolina, I'm still obsessed with reading books set in the area. The House on Tradd Street promises a great Charleston feel with a nice mix of romance and mystery.
3. 2015 debut you are most anticipating?
I don't think much about debut dates.
4. Series ending you are most anticipating in 2015?
I'm not sure if any of the series I'm reading are ending in 2015. Another thing I don't pay much attention to.
5. One thing you hope to accomplish in your reading/blogging in 2015?
To enjoy books and reading as they happen, and not freak out about my blogging schedule.
What are your 2015 reading goals? Let's talk!