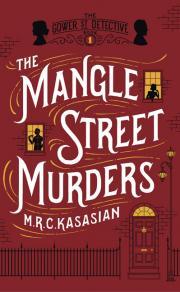 Disclosure: I received a free copy of The Mangle Street Murders from publisher Pegasus Books, LLC, but was not compensated for discussing/reviewing it. My thoughts on the book are my own.
It's 1882, and Miss March Middleton has just arrived in London. Her father's death has left her an orphan, and her godfather — the intelligent but rude "personal detective" Sidney Grice — has offered to take her in.
March has no idea what she's gotten herself into. Grice is an apparently heartless, greedy, snobby, misogynistic man, more intent on padding his wallet than in helping others.
When a brutal, sensational killing rocks the city's East End, it is only through offering up her own meager savings that March is able to convince her godfather to take the case.
Unfortunately for Grice, March's monetary aid is dependent on her contributing to solving the case. Now he must set aside his ego — and March her own set of secrets — to identify the killer before he or she strikes again.
A terrifying city
London, despite its glittering palace and posh style, has a seedy underbelly. The city's East End has its own nasty history, with Jack the Ripper and rampant poverty as the high points.
The Victorian age was an especially rough period, when industrialization and prosperity stood cheek-to-jowl with disease and homelessness.
M.R.C. Kasasian captures this dichotomy perfectly in the first in his Gower Street Detective series. The London into which Grice and March venture is disturbing, full of scenes and smells that turn the stomach. It's a character in itself, and makes the plot leap off the page and into the reader's mind.
An irritating detective
I do not like Sidney Grice one bit — I don't think you're supposed to. He's harsh, greedy, and just a little too eager to see people hanged.
[pullquote]He's a cold, calculating bastard, and I'm hoping Kasasian sheds more light on Grice's history as the series continues.[/pullquote]
There are only two small things that give me any hope for the man:
His maid, Molly, tells March he has a good heart
He doesn't eat meat
Molly also alludes to Grice's "secret vice," which makes me think that we will learn more about Grice later to make him a more sympathetic character.
Grice's vegetarianism is intriguing because it shows he has some kind of heart. He's seen one too many dead bodies (or pieces of them) to eat even ham. If he was completely callous he would be able to view a dissected body and then return home for a medium-rare steak.
He's a cold, calculating bastard, and I'm hoping Kasasian sheds more light on Grice's history as the series continues.
A secretive heroine
March is young, but she's hardy. She assisted her late father, a military doctor, in India — bits of her diary describe terrible injuries and deaths — and is more than capable of holding her own against the male prats with which The Mangle Streets Murders seems to be filled.
Like Grice she's got her secrets — the biggest of which she alludes to on page eight, then spends the rest of the novel dancing around. Also like Grice, she's stubborn and a bit hot-tempered, although more lovable.
Grimy, funny, and perfect
The Mangle Street Murders is 329 pages of murder and mayhem, and it's positively wonderful. Fans of whip-smart heroines, snarky detectives, and mystifying mysteries rejoice — M.R.C. Kasasian has written just the thing for you!
The second in the series, The Curse Of The House Of Foskett, is expected to be published in early June. I can't wait to see what happens next.