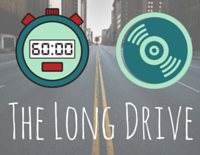 Lately I've been on a mystery kick. It started with After the Funeral and has expanded to include a favorite of mine since high school, Clive Cussler. Strange how listening to characters in a book murder each other makes me feel less murder-y on my commute.
Spartan Gold, by Clive Cussler with Grant Blackwood
(Read by Scott Brick)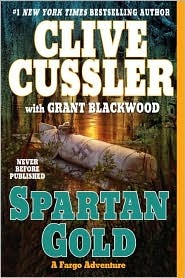 Treasure hunters Sam and Remi Fargo think they've seen it all when they find a WWII German submarine in a Delaware swamp — but that's just the beginning. Someone wants what's in that sub, and will not hesitate to use violent means to get it. What did the Persian rules Xerxes take from Greece, and how did a map leading to those riches wind up on bottles from Napoleon's lost vineyard?A good friend introduced me to Cliver Cussler novels in high school, and I loved them immediately. Although my true favorite will always be Dirk Pitt, this new series featuring Sam and Remi is just as exciting, tense, and well-crafted as Cussler's original novels. Narrator Scott Brick was excellent, sliding smoothly between French, Russian, Ukrainian, and American accents. Just pure fun! 5/5 stars
Murder at the Vicarage, by Agatha Christie
(Read by James Saxon)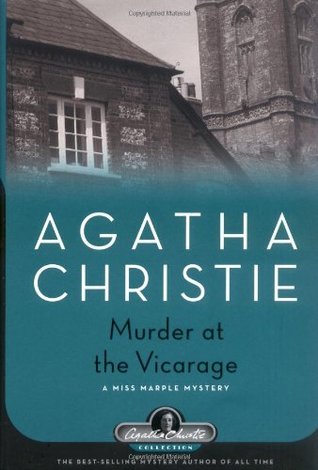 The murder of Colonel Lucius Protheroe in the vicar's study puts the small village of St. Mary Mead in a tizzy. Everyone, that is, except Miss Jane Marple — for behind the chintz and reading glasses lies the heart of a true detective. Everyone in the village is a suspect, and everyone has an alibi; can Miss Marple uncover the truth, or will a murderer go free in St. Mary Mead?Murder at the Vicarage marks the first appearance of Agatha Christie's Miss Marple, and I adored her instantly. The novel was fun — narrator James Saxon was just superb — and zipped along nicely despite being very "British." And of course the Whodunit was masterfully hidden and revealed. 4/5 stars
Hiss of Death, by Rita Mae Brown and Sneaky Pie Brown
(Read by Kate Forbes)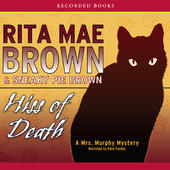 Mary Minor "Harry" Haristeen is looking forward to a lovely spring in in her native Virginia when she is diagnosed with breast cancer. Fortunately she has her animals — cats Mrs. Murphy and Pewter, and pup Tucker — to help her through. But when employees at the local hospital start turning up dead, Harry and her four-legged friends must find out who's responsible — before they're next. I read Murder at Monticello, another Mrs. Murphy mystery, several years ago and really liked it. I enjoyed this one too, mostly. Surprisingly it was kind of…preachy. Characters ramble/rant on about homeopathic cancer treatments, drug/possession laws, and other things. The story was good, but at least once I had to hit the button to go to the next track because the tangent a character had gone on for so long. It was weird. But the narration was great and the mystery nicely done. 3/5 stars
Time to head back to the library! Got recommendations for great audiobooks and/or narrators? Drop 'em in the comments!