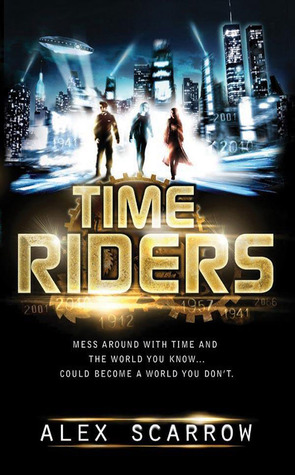 Liam is aboard the Titanic in 1912; Maddy on a doomed plane in 2010; Sal trapped in a fire in 2026. Each is saved from death at the last moment, but they can never return to their own time. History is in danger, and they've been recruited to protect it.
The trio are TimeRiders, dedicated to preserving the world's true historical timeline. Time travel is real, and there are some who would use it to change the past.
Normally these changes are small, easy to miss. But all it takes is one madman to throw all of history into a nuclear tailspin. Now Liam, Maddy, and Sal must work together to find this time villain and undo his changes — before he destroys the world.
Quite the ride
The first novel in author Alex Scarrow's TimeRiders series is fast-paced, dropping the reader immediately into a world constantly thrown into chaos by people looking to mess with history. Fortunately I never felt lost — at last, a book in which the rules of time travel make sense!
It's interesting that the Time Riders actually don't do much time traveling; Liam makes a couple jumps, but it's actually Maddy and Sal — the analysts, the pattern-spotters — who do most of the work. Without their understanding of how the world should be, Liam would never be able to know when something changes.
Time Riders is the first in a series, so the reader has to take in new characters and world norms quickly. But the pace doesn't suffer, and it never feels like you're being bombarded with unnecessary information. There's eight more books in the series, and it looks like things get pretty intense.
Recommended reading for lovers of time travel, history, and slightly bizarre pop culture reference choices.