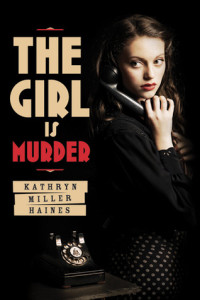 It's the fall of 1942 in New York City, and Iris Anderson's life is falling apart. Her Pop has uprooted them from their comfortable place on the Upper East Side to a shabby building on the Lower East Side. And worse still, Iris has to attend public school for the first time in her life. It's just as awful as she imagined.
She knows things would be better if she could help her Pop run his fledgling detective agency — solved cases mean money, and they need all of that they can get.
When a boy at her school goes missing and her father is hired to find him, Iris decides to lend a hand, despite her father's insistence that she keep out of it. It's Iris' mission to infiltrate the missing boy's circle of friends to discover who knows more than they're saying; but the more she investigates, the more precarious—and dangerous—her position becomes. Can she discover the missing boy's whereabouts, or will her nosiness mean the end of Iris Anderson?
I love Iris
Iris is a character you can't help but empathize with — not only because she's been through some genuinely terrible things, but also because she's hopelessly out of place. She's used to a certain lifestyle and a certain way of looking at things, and her drop into "the real world" leaves her feeling uncertain.
Author Kathryn Miller Haines has perfectly captured what it's like to be a 15 year-old girl. Discomfort at being jostled from a warm and safe childhood and into the rough waters of high school; the awkwardness of first crushes; the absolute certainty that wearing the wrong clothes or sitting at the wrong lunch table will bring permanent shame; the inescapable desire to rebel and do what you want to do, become who you want to be.
I ache for Iris every time one of her illusions is shattered — the illusion of family happiness, of wealth, of equality, of fairness. It's something that happens to all of us, and it's somehow both comforting and sad to be privy to Iris' disillusionment.
A good read
This is one of those books in which the setting starts to feel like another character, and not just because of the use of slang terms popular at the time — the wartime setting served to raise the stakes. Between racial tensions and war worries, 1940s New York was not the happiest or safest place for many.
The Girl is Murder is a great page-turner, part detective novel, part coming-of-age story. The plot builds and twists nicely, and the ending (though not as explosive as I thought it would be) is well-architected and unexpected. Great characters, great plot, and great themes/lessons make this a recommended read.
Also, the second book in the series, The Girl is Trouble, was release summer 2012.
(I read this book as part of The Mount TBR Challenge. Here's to a shorter list!)
I'm doing a giveaway of a very special edition of Neil Gaiman and Terry Pratchett's Good Omens. The contest ends in just a few days, so enter now!