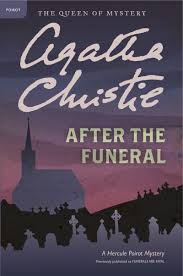 No one in the Abernethie family can throw cold water on a moment quite like Cora Lansquenet. She's always been in the habit of speaking uncomfortable truths at inopportune moments, but no one expected this habit to rear its head the same afternoon as Cornelius Abernethie's funeral.
"But he was murdered, wasn't he?"
Everyone — including Mr. Entwhistle, the family solicitor — dismisses her as a empty-headed old woman. But when Cora is found murdered in her home the next day, Mr. Entwhistle begins to wonder if she really was telling the truth.
Cora was definitely murdered, but was Cornelius Abernethie as well? Only one man — the now-retired Hercule Poirot — can uncover the truth.
The master of Whodunit
There's a reason Agatha Christie is the most widely-published author of all-time.
After the Funeral is — like all her other books, I'm told — fabulously written, full of fun characters who are all equally likely to have committed the crime. And yet at the end I'm always surprised. It's amazing.
The novel is quintessential British literature, so it's a little slow and there's not a lot of what most people would call action, but true mystery fans will appreciate its twists and turns.
Now it's time for me to branch further into Christie's novels with a Miss Marple mystery!