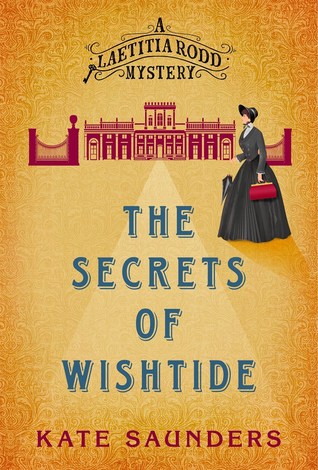 Widowhood does not agree with Mrs. Laetitia Rodd. A woman of her age and situation should be content to sit by the fire with a bit of sewing, but it's simply not her cup of tea. She prefers moonlighting as a private investigator in the service of her brother, a popular criminal barrister.
Her most recent assignment, however, does not provide much in the way of excitement. Charles Calderstone, son of the well-connected Sir James Calderstone, has fallen in love with the wrong sort of woman. His parents are convinced that Helen Orme is not who she pretends to be — and they ask Mrs. Rodd to ferret out the truth. It's an open-and-shut case.
But the walls of Wishtide, the Calderstone's home, hold many secrets. As the bodies pile up, Mrs. Rodd discovers that nothing is what it seems.
Manners and murder
I'll read almost anything, but I always end up back at murder mysteries — and books like The Secrets of Wishtide are why.
Author Kate Saunders has created a character with the manners of a queen, the brains of Hercule Poirot, and a spine of steel. I loved getting to know Mrs. Rodd. Scarcely less wonderful is her landlady, the unflappable Mrs. Benson. It's like a Sherlock Holmes story, but with less cocaine and more actual investigation.
The mystery is good, if a trifle over-complicated. Saunders gets a bit heavy-handed throughout; she gives Mrs. Rodd plenty of opportunities to judge some "unfortunate" for their situation before magnanimously announcing to the reader that she's being judgy and patting herself on the back for walking a mile in said unfortunate's shoes.
Those complaints excepted, I loved The Secrets of Wishtide. It's the first in what looks to be a great series. I'm always excited to read about strong female characters who kick ass and take names.