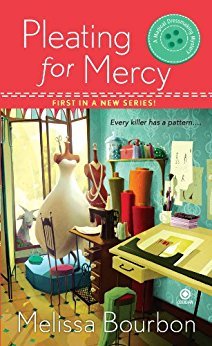 After her great-grandmother's death, Harlow Jean Cassidy has moved back to her hometown of Bliss, Texas. She's happy to be back, but her dressmaking boutique hasn't exactly taken off — she's spent most of her time hemming polyester pants.
Then Harlow's childhood friend Josie shows up needing a wedding gown and three bridesmaid's dresses for her ceremony that's less than two weeks away. Suddenly Harlow has more work than she can handle.
Things get worse when one of Josie's bridesmaids is found murdered. With the help of newfound friends — and her family secret — Harlow must find the killer before it's too late.
Nothing like a cozy mystery
When life is crazy, sometimes a cozy murder mystery is just what the doctor ordered.
Pleating for Mercy is quintessentially cozy, with fun characters, small romances, and a mystery that managed to be interesting without being overly heavy.
It's the first in a series, naturally, and sets up some great characters and relationships.
There's the magical "Cassidy family secret," as well as some ghostly activity. These are both well done, and I enjoyed seeing Harlow grow into her abilities.
Two thumbs up! Now, back to cross-stitching.
(I read this book for the Monthly Motif Challenge. October's challenge was to read a mystery novel, be it cozy, scary, or paranormal.)