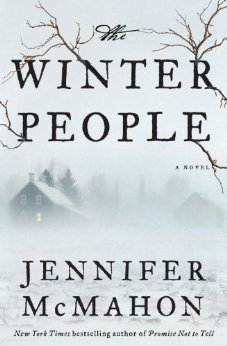 West Hall, Vermont is haunted by legends. In 1908 Sara Harrison Shea was found dead in the field behind her home. Since then more people have disappeared, perished under mysterious circumstances, or seen frightening things in the forest near the Devil's Hand.
The latest person to disappear is Alice, mother of 19-year-old Ruthie and six-year-old Fawn. While searching for clues to her disappearance, the children find a copy of Sara's diary under a loose floorboard in Alice's room.
Ruthie and Fawn aren't the only ones looking for someone they love. Sara's diary holds a dangerous secret, one that some people would do anything to get their hands on. Can Ruthie find her mother in time, or will the secret Sara Harrison Shea died to protect be their undoing?
Creeeepy!
I'm a sucker for a good mystery, and The Winter People has tons of them. What happened to Alice? What terrible secret did Sara Harrison Shea know? What, exactly, lurks in the woods near the Devil's Hand?
Author Jennifer McMahon packs some amazing themes — especially parents' love for their children — and moments into just 314 pages. Every character is desperate to find what they've lost, and some go beyond desperation and into madness. It's beautiful and brutal to read.
I love that the author chose to alternate her chapters between past and present. The book starts with Sara Harrison Shea, but her story is not linear. Her chapters skip back and forth through her timeline, slowly unspooling the secrets and horrors of her final days.
Sara is the most well fleshed out character, but that's not to say that Ruthie, Fawn, and the others are two-dimensional. They're all wonderful and exciting to read about. By the end of the book I was rooting for everyone.
Sara's final secret may not be a complete surprise, but it's definitely heartbreaking. The Winter People ends with the perfect balance of bitter, sweet, and frightening. An awesome ghost story, just in time for Halloween.
(I read this book as part of the Monthly Motif Challenge. October's challenge was to read a cozy mystery, ghost story, paranormal creeptastic, or murder mystery.)