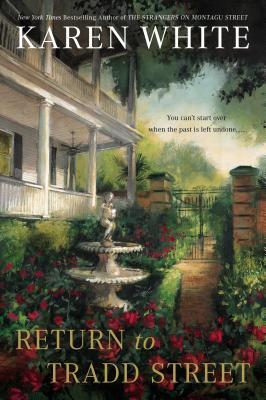 Spoiler alert! If you haven't read this fourth in Karen White's Tradd Street series, go do that and then come back to this review.
The last two months have been some of the worst of Melanie's life. After discovering her pregnancy and refusing what she sees as Jack's pity proposal, she's spent most of her time sleeping and trying to keep down saltines. The house on Tradd Street still needs repairs, and she has no idea if they'll be done before the baby arrives.
To top things off, Melanie has started hearing the cries of a ghostly infant. What is the house on Tradd Street trying to tell her, and will she understand it in time?
Another great installment
I read the first in this series, The House on Tradd Street, in March, and have been snagging copies of the rest ever since. Between the romance, humor, mystery, history, and things that go bump in the night, this series has got something for everyone.
Return to Tradd Street is less action-packed than its predecessors, not something I consider a downside. Melanie has drawn even further into herself since discovering her pregnancy, and as readers we must go where she does. The last few chapters are real nail-biters, filled with all the ghosties I've come to expect from White's novels; however, the bulk of the story happens completely in Melanie's head. She's finally forced to grow up, decide what truly matters, and make the kind of important decisions she's spent her life avoiding.
And there's some sweet revenge on a couple characters that have been annoying since book one. So that's a plus.
I finished Return to Tradd Street slowly, thinking it was the last in the series. The good news is it's not! The bad news is the next one isn't coming out until 2017. Only 385-ish days to go.
(I read this book as part of the Monthly Motif Challenge. December's challenge was to read the next book in a series I'd already started.)