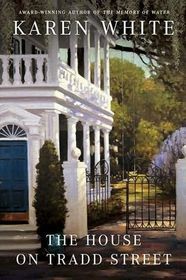 Melanie Middleton hates old houses. They're money pits filled with all kind of unwanted guests: roaches, termites…ghosts. She prefers to ignore these crumbling ruins and their opaque inhabitants. So it's for obvious reasons that becoming the owner of a haunted heap on Tradd Street is cause for concern.
Figuring out how to afford renovations soon becomes the least of Melanie's worries. The house on Tradd Street has many secrets, and not all of its inhabitants want those secrets revealed. With the help of her friends — including the spirit of a woman long dead and a handsome writer looking for Confederate secrets — Melanie must root out the poisonous presence in her home before it's too late for them all.
What's not to love?
Ever since my trip to Charleston last year, I've gone gaga over any stories set in that city. It's a melting pot of cultures and religions and history, and I'll get back there any way I can — including through reading.
The House on Tradd Street is the first in Karen White's Tradd Street series, and it's wonderful. Rather than the grimy, flat settings I encounter in books like D is for Deadbeat, White's novel puts me smack in the middle of sunny Charleston, where history hangs from the trees like Spanish moss.
I've always been fascinated by ghosts, so this series is right up my alley. The mystery and tension build slowly, with moments of silliness replaced by terror and close calls. And of course there's a love triangle, which White sets up so nicely that the reader — like Melanie — doesn't know who can be trusted and who can't.
It's particularly fun seeing Melanie grow and change. She keeps her baggage and emotions hidden away behind stark white walls and modern polished chrome, and in the end the book is as much about renovating her soul as the home she's inherited.
The House on Tradd Street is perfect for those who love ghost stories and the South, history and mystery. And the best part? There's three more books in the series!