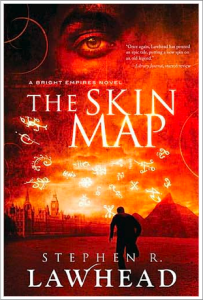 Kit Livingstone left his flat expecting an uneventful Sunday shopping trip with his girlfriend Wilhelmina; what he got was a introduction to his surprisingly spry great-grandfather Cosimo and a sudden journey through time and across dimensions.
The Livingstone men are gifted — perhaps cursed — with the ability to travel through the Omniverse, thousands of interwoven dimensions connected by ley lines around the globe.
There is only one map that accurately depicts the Omniverse, tattooed in brilliant blue on the body of the universe's greatest explorer. But even he is not immortal, and the Skin Map has been lost.
Cosimo, his friend Sir Henry, and now Kit are looking for the map — and they're not the only ones. Soon the adventurers are embroiled in a dangerous mystery that takes them places — and times — they never could have imagined.
Nicely started
The Skin Map is the first in author Stephen R. Lawhead's Bright Empires series, and manages rapidly and handily to introduce lots of characters and concepts. Just like Kit, the reader is overwhelmed with a vast amount of unbelievable knowledge and simply has to go with it.
The story is cerebral, as much a series of puzzles as of chases and narrow escapes. And of course there are way too many questions to be answered in a single book, so you're compelled to go looking for the next in the series.
To be totally honest, I didn't feel like this was a great book. It was good, but I think I might be full-up on the fantasy genre for the next month or so — just in time for Non-Fiction November, conveniently enough.
That said, The Skin Map is definitely a good story, and worth investigating if you like fantasy, tales of time travel, and history in all its accurate and alternate forms.