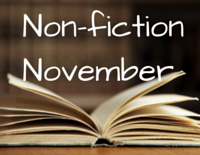 If you've spent any amount of time reading this blog, you'll notice that I read mostly fiction. I've always preferred it over non-fiction, and I don't see this changing anytime soon.
But of course I recognize the importance of non-fiction, and feel that my reading experience would be incomplete without it. Which is why, once per year, I set aside the fiction and concentrate exclusively on true stories. And because alliteration is fun, this always happens in November.
Everything is more fun with more people, so feel free to join me every November and glut yourself on stories that are so ridiculous, they can only be true!
2016 reviews
2015 reviews
2014 reviews
2013 reviews and posts
2012 reviews and posts
2011 reviews and posts
2010 reviews and posts