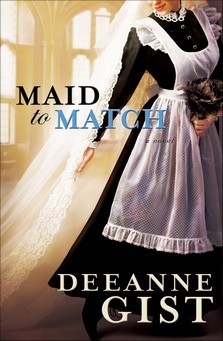 It's 1898, and Tillie Reese is about to attain her lifelong dream. Being a housemaid at Biltmore — the palatial home of George and Edith Vanderbilt — is more than she could have ever imagined, and now she has the chance to become lady's maid to Mrs. Vanderbilt herself.
There's just one problem: Mack Danvers, Biltmore's newest (and most handsome) employee. Romance amongst the staff is frowned upon, and Mack is definitely interested in causing trouble.
Mack is a good man, despite his prickly exterior. And when he and Tillie uncover a terrible secret at the local orphanage, there may be more at stake than their jobs.
When in Rome…
I spent last week in what some would call "the Deep South," visiting Charleston, SC and Asheville, NC. There was a lot to take in, but I found myself most interested in the history of Biltmore, the absolutely enormous home built by George Vanderbilt in the mountains just outside Asheville in the late 19th century.
In its heydey it took dozens of servants to keep Biltmore running smoothly. Touring the basement, servants' quarters, pantries, and kitchens was my favorite part, and I wanted to keep myself immersed in that world.
A truly lovely read
Lo and behold, Maid to Match appeared. Written by Deeanne Gist, it's a fictional story in a real-world setting; it kept me in the world of Biltmore while adding in the extra bonuses of mystery and romance.
The book's cover belies the story's serious nature. Don't get me wrong, there's plenty of stolen kisses and longing glances and romantic shenanigans — but Gist also folds in seamlessly a well-crafted mystery. It's even a little bit heartbreaking.
It was extra fun for me because I went where Tillie does: the tapestry gallery, the servants' dining hall, the long drive up to the main house. It made me feel closer to the character and even to Biltmore itself.
Maid to Match is a little bit fluff, a little bit history, and all heart. A perfect read anytime, on vacation or not.