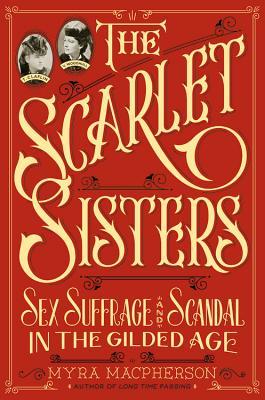 Victoria Woodhull and Tennessee Claftin were two of the children of a backwater snake oil salesman. The sisters spent their childhoods telling fortunes and handing out quack cures. They were not destined for great things.
But the Gilded Age had a habit of propelling the least likely people to unimaginable heights. In a time when women were still considered property, Victoria and Tennessee did the unthinkable: they fought for women's fiscal, political, and sexual independence.
Ahead of their time
These ladies were badasses.
They were friends with Cornelius Vanderbilt, Susan B. Anthony, and Karl Marx; they went toe-to-toe with Anthony Comstock, Harriet Beecher Stowe, and the famous preacher Henry Ward Beecher.
They were the first women to open a brokerage firm (the second woman-owned firm opened almost 100 years later), as well as the first female publishers of a radical weekly newspaper. In 1870, 50 years before women could vote, Victoria Woodhull announced her candidacy for President of the United States; a year later, Tennessee ran for Congress.
I've read so much about American history and all of these people; how the hell have I not heard of Victoria and Tennessee?
Fact vs. fiction
According to author Myra MacPherson, historians and biographers sometimes take the saying, "Never let the facts stand in the way of a good feature story" a little too seriously.
But it's not all their fault. The sisters — perhaps embarrassed by their upbringing and interested in being fascinating figures — changed and embellished and ignored aspects of their lives when it suited. Newspapers were interested in sales, not facts, and sensationalized everything the sisters did.
The Scarlet Sisters is the result of MacPherson's deep research into Victoria and Tennessee's lives, including thousands of pages of books, letters, newspaper articles, and court records. It chronicles their sudden rise to fame, their involvement with the suffrage movement, and the scandal that eventually, if temporarily, ruined them.
In like lions, out like lambs
Victoria and Tennessee were popular, but they were also vilified. Rumors and scandal followed them wherever they went, and their radical views (particularly around "free love") made them pariahs to the same movements they were trying to help.
I think at the end of the day, they were just tired. Tired of hiding and reinventing their histories, of being sued and jailed, of being eviscerated in the papers, of constantly having to defend their legitimacy as human beings.
Like many famous people of the Gilded Age, the sisters faded into obscurity in their later years. They moderated their radical beliefs, and in many ways became like the women they once seemed to pity and despise.
Did they truly believe all the things they said in speeches, their newspaper, and in court? Or was it merely another attempt to reinvent themselves, to escape from a dismal childhood and become fabulously wealthy and famous in the process?
We'll probably never know the whole truth. But that doesn't make Victoria and Tennessee any less worthy of mention in the history books. They were intelligent, courageous women far ahead of their time, and I think everyone should know more about them.