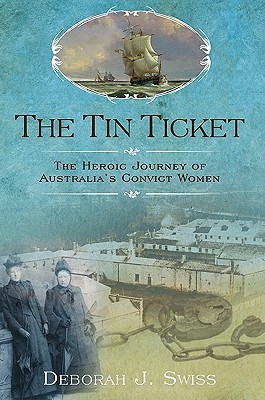 Teenagers Agnes and Janet stole clothing; Bridget stole milk; Ludlow pawned her employer's spoons. In the early 1800s in Britain the sentence was not jail time, but transport.
These women — and thousands of others like them — were convicted by courts eager to populate Van Diemen's Land (later Tasmania). Packed into ships like cattle, the convicts endured sickness and attacks from their captors. Of those who made it across the world alive, many arrived onshore pregnant.
The Tin Ticket tells the stories of four women and their incredible journeys from poverty in England and Ireland to exile in a country they were destined to shape for future generations.
Horrifying and amazing
If there's one thing you can count on government for, it's making terrible decisions in the name of nationalism.
For 80 years in the 18th and 19th centuries, the British Empire transported hundreds of thousands of men and women to Australia. Most of the 25,000 women exiled were first-time offenders convicted of minor crimes.
Author Deborah J. Swiss tells the stories of many of these women, focusing on Agnes McMillan, Janet Houston, Ludlow Tedder, and Bridget Mulligan.
Each of their stories is harsh and ultimately redemptive. Taken together, they represent the thousands of transported and abused women who served their sentences and then had to make new lives for themselves in a foreign land.
Not only did they survive, many of them thrived. They went on to marry, have children, and shape their society for the future. Their strength is incredible, and I'm so proud of all they did.