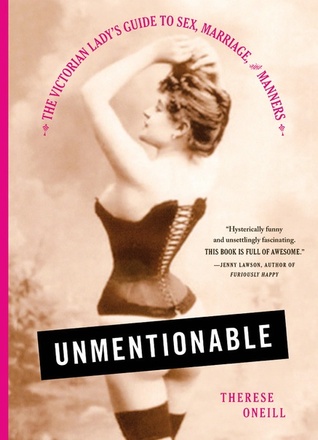 If you've always thought that a clean, simple frock is better than low-rise jeans, that you would enjoy living in the time of Charlotte Bronte, or that the centuries before ours were simpler and better…this book is not for you.
Unmentionable: The Victorian Lady's Guide to Sex, Marriage, and Manners will disabuse you of the laughable notion that the 19th century would be a fun place to spend any time.
Not only is there arsenic in pretty much anything you put on your face, there's also no refrigeration, no talking to a man who's not your husband or father, and definitely no talking about s-e-x. There's also an astonishing array of crotchless clothing, and fat-shaming is totally a thing.
Therese Oneill's book is an awesome examination of the horror show that was the 19th century. Let's check out the revolting details, shall we?
"Hello, slattern"
I figured any book that starts with these words is probably going to be amazing. And I was right! Unmentionable is a sassy, snarky look at an era many people tend to romanticize.
Oneill starts you off with getting dressed (hide those ankles, ladies), and shares makeup tips (you know what'll take care of those freckles? Acid!). Then it's on to discussing periods (no matter how you manage them, it's not the right way) and how to land a husband (by never speaking to him, apparently).
Next up we've got the typical "Your womb is a wandering monstrosity that makes you crazy" garbage, followed by quotes from old white dudes who thought birth control, masturbation, and visiting museums was going to lead to humanity's downfall.
And it's all written in the best tone ever. For example, in a section called, "Give Him NOTHING":
You are a prize to be won. He must work to capture your affections and approval. Only the stupid and slutty trout leap out of the water to gain the fisherman's attention. The virtuous trout simply allows the sun to gleam briefly on her shining scales and then dives back to the shadowy depths. Only a skilled man with the finest of fake bugs can ream a metal hook through her mouth. You are that trout, and the metal hook you are about to be impaled on is holy matrimony.
Unmentionable had me chortling and reading sections aloud to my husband. He didn't think it was as funny. Maybe I let a bum fisherman catch me? Oh well. I shall comfort myself by reading this book again and thanking my lucky stars I wasn't born in the Victorian era!