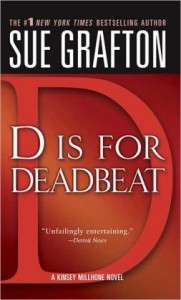 When Alvin Limardo hires Private Investigator Kinsey Millhone to deliver a $25,000 check to a 15 year-old kid, Kinsey smells a rat. She knows something is off, but Limardo's $400 retainer is too good to pass up.
Things go wrong almost immediately. First Limardo's retainer check bounces, then the man himself is found floating in the California surf. The police rule it an accident, but Kinsey's own investigation turns up a startling amount of people who want Limardo — real name John Daggett — dead.
Everyone's got a grudge, and it's up to Kinsey to discover the truth. But what she finds is even more disturbing than she ever could have imagined.
A gritty Whodunit
D is for Deadbeat is the fourth in author Sue Grafton's Kinsey Millhone series — by all accounts it's a popular series, and I can understand why.
If you're looking for a well-crafted Whodunit, this is your next read. The mystery is solid, the twists unexpected and nicely done.
The story stays firmly within the typical genre stereotypes — feisty, nosy main character, misdirection, seedy bars and run-down apartments. This could be a pro or a con, depending on what you like. Personally, I enjoyed the story, but don't think I could read the entire series (Grafton is up to #23). If you're looking for a murder mystery that breaks any kind of mold, I'd recommend looking elsewhere.
This was a fun book, but not really my cuppa.