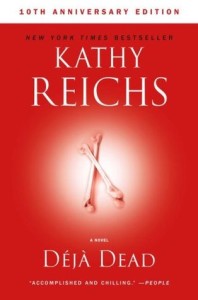 Dr. Temperance Brennan believes in justice, particularly for those who cannot speak for themselves. As the resident forensic anthropologist at Montreal's Laboratorie de Médecine Légale, it's her job to identify skeletal remains, giving them names and causes of death.
When a set of neatly dismembered female remains is discovered stashed in plastic bags, Temperance uncovers a frightening pattern: a history of similar murders spread out over almost a decade.
As Temperance digs deeper into the case, she brings herself and those closest to her ever nearer to an incomprehensibly evil foe — one who will do anything to remain undiscovered.
A case of clashing expectations
Oh boy. I really wanted — and expected — to love author Kathy Reichs' Déjà Dead, and the fact that I didn't may be my own fault.
For those of you not obsessed with FOX's series Bones (starring Emily Deschanel and David Boreanaz), allow me to share this factoid: the television show's Dr. Brennan is based off Reichs' novels.
When you read that a book is "from the author who inspired the FOX television drama Bones," it tends to set certain expectations. I incorrectly assumed that the two would have more in common than the character's name and unflinching belief in justice.
Bones is by no means a sitcom, but it does incorporate moments of levity, particularly about Temperance's lack of social skills and her team's interactions. None of this was present in Déjà Dead, and the novel really could have used it.
In contrast to the show, Déjà Dead is incredibly graphic and very serious.
Thoughts on the novel
It's difficult to decide if I didn't like Reichs' novel because it differed so widely from my expectations, or because it's not enjoyable all on its own. Upon reflection I think the former didn't help, but that the latter is the truer reason.
Once again an author has beelined directly to creating a sexually violent criminal, my least favorite and something I'm admittedly a little over-sensitive about — at this point it's almost a trope, and I think is used often as a way to sell more books and titillate those who read them. I don't mean to be glib, but what's wrong with an old-fashioned robbery gone wrong or a random beating?
I did like Reichs' writing style, particularly her descriptions of locations and things.
When summer arrives in Montreal it flounces in like a rumba dancer: all ruffles and bright cotton, with flashing thighs and sweat-slicked skin. It is a ribald celebration that begins in June and continues until September.
Unfortunately the novel falls into the same trap as does Katia Fox's The Copper Sign: the author did a lot of research on a topic and decided to put all of it into the book.
Déjà Dead has pages of descriptions of saw marks, bone structures, and other medical ephemera. It's hard to provide enough information so that the plot and deaths make sense without overloading the reader, and I think Reichs' novel leaned a little more towards overload.
The long and short of it
Some of my dislike of this book has to do with my own misplaced expectations, as well as my general mood; however, the writing itself is just as much to blame. It was a good mystery, I suppose, but too sexually violent and heavy on the exposition.
For those of you who do think you'd like the series, you're in luck: the 18th book, Speaking in Bones, is set for release in September 2015.
Anyone read this novel and think I'm completely crazy? Drop a comment below!