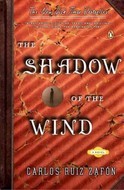 It's early summer in 1945 Barcelona when ten year-old Daniel visits the Cemetery of Forgotten Books for the first time.
When a library disappears, or a book shop closes down, when a book is consigned to oblivion, those of us who know this place, its guardians, make sure that it gets here. In his place, books no longer remembered by anyone, books that are lost in time, live forever, waiting for the day when they will reach a new reader's hands. In the shop we buy and sell them, but in truth books have no owner. Every book you see here has been somebody's best friend.
Like each of the first-time visitors before him, the boy must choose a book over which to become custodian, someone who never forgets it. Daniel chooses The Shadow of the Wind by Julián Carax, a dark novel that draws him unexpectedly in.
But The Shadow of the Wind is not as forgotten as its location suggests, or as loved by others as it is by Daniel. Someone has been seeking copies of Carax's novel and burning them. Daniel's quest to learn more about the novel and its tortured author quickly becomes a dangerous game — with everyone playing for keeps.
Glorious
Carlos Ruiz Zafón's The Shadow of the Wind (not to be confused with the book-within-a-book by the same name) has been on my TBR shelf since Christmas, when I received a copy from Amanda at Opinions of a Wolf. It's been ripening there since, and last week I finally picked it up.
This book was 487 pages of awesome. If you've ever seen a guitar player tuning his instrument, the slow stretching of the string, tighter and tighter until you think it might snap, you can imagine the feelings this book inspires.
Zafón is a master storyteller, carefully placing layer upon layer of events, letters, flashbacks, and characters so that you know something is forming, but you can't see what until the last piece is in place and suddenly bam!
The characters were well-defined, the twists surprising, and the plot impeccable. It's clear that Zafón loves writing and, more importantly, believes in the power of books to shape and change us and the world. Wonderful.
What book would you pick from the Cemetery of Forgotten Books?