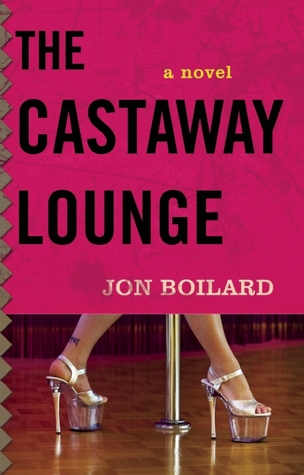 It's 1986, and Jackson "Applejack" Woods would rather be anywhere else than this carcass of a town. After years of living on the wrong side of the law, he's determined to get on the straight and narrow that leads to somewhere — anywhere — else.
Things go from bad to worse when a young pole dancer, Peanut, turns up dead at an after-hours party hosted by the owner of the local strip club. As one of the local thugs-for-hire, Applejack is brought in to help clean up the mess.
The crime doesn't stay secret for long. The dancer's head is found soon after, followed by her leg and torso. Her father and brothers are just itching to get their hands on anyone involved, and Applejack can't blame them.
The Castaway Lounge features a town full of "the desperate and the damned," each trying to eke out an existence in a town that died long ago. Strippers and womanizers, crooked politicians and men who prey on the innocent. Applejack wants out, but can't help wondering if this is where he belongs after all.
Gritty, gory, and good
The Castaway Lounge is as far out of my comfort zone as anything I've read in the last few years, and it's glorious. Well, it's actually dirty and violent and sad, but it's written gloriously.
Applejack is not really a nice guy — he's a womanizer, a criminal, and works for a guy who could give Caligula a run for his money. And yet he's easy to root for, because he's at least trying to be a good person. Same goes for several of the Castaway Lounge's dancers, especially Suzanne and Jill.
The bad guys are, of course, easy and fun to hate — and seeing them get their comeuppance for killing Peanut is the most satisfying part of the novel.
Two small nitpicks
Boilard's novel follows several storylines, all of which are excellent. Only one — which centers around Honey and her sexual relationship with her boyfriend William and William's father — sits further apart from the central stories. It's well done, but I wish it could have been incorporated a bit more into the main plot.
Second, the writing itself has a few quirks. It's written in third person present tense, something that often gives writing a "bad fanfiction" kind of feel but for some reason doesn't bother me as much here. Additionally there are no quotation marks, and the word "hey" is used in a way I've never seen before.
Then I stuck him and run home, Beverly says. Without looking back hey.
Is this a New Englander thing, some kind of vocal tic? It stuck out every time, making my Inner Grammarian's eye twitch ever so slightly.
Overall, though, I enjoyed The Castaway Lounge more than I thought I would. It started slow and the violence was a little off-putting for me, but once it got going I was hooked until the very end.