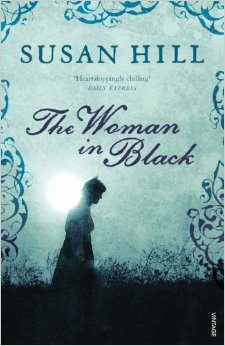 Solicitor Arthur Kipps leaves London with a light heart and bright future. He's engaged to be married, and seems to finally be making an impression on the owner of the firm for which he works. Mr. Bentley has sent him to the little salt marsh hamlet of Crythin Gifford to settle the final affairs of Mrs. Alice Drablow, and he intends to do so quickly and efficiently.
The town is remote, Mrs. Drablow's home even more so. Eel Marsh House looms damp and empty at the end of the causeway, only accessible at low tide. An abandoned cemetery sits nearby, and it's there that Arthur first sees the gaunt woman in black.
This sighting is just the beginning. Arthur begins hearing terrifying sounds in the house and the fog that surrounds it: a rocking chair in an empty nursery, a pony and trap rattling across the causeway, a child's scream in the night. He must complete his business, but will he survive long enough to do so?
Someone hold me
Susan Hill's novel has no jump scares, no gore, and minimal violence. Yet I blitzed through the 176-page novel faster than I would have liked because I was holding my breath every time I picked it up, and "Passed out from fear while reading" seemed like an embarrassing thing to have to explain to my husband/an EMT/an ER doctor.
The Woman in Black is written from Arthur's perspective as a letter to whomever may read it after the solicitor's death. In the letter he describes the events of those terrifying few days, and how the consequences of his presence at Eel Marsh House have haunted him in the years since.
The story begins ominously enough, with everyone in Crythin Gifford doing their best to avoid Arthur's questions about Mrs. Drablow and her home and family. The tension ratchets up with Arthur's arrival at Eel Marsh House; if the fog and phantoms aren't enough to creep you out, there's always the creak-creak, creak-creak of a rocking chair to keep you up at night.
The story is told by Arthur, but it's definitely about Eel Marsh House — the abandoned home and its mourning-clad haunt feel more real than does the narrator. The home's isolation in the salty marshland makes it clear that Arthur is completely alone, and will survive or perish by himself.
The Woman in Black is at the top of my list for best settings, and is a perfect Halloween read. Now I'm going to eat candy until I'm not scared anymore.
(I read this book as a part of the 2015 Monthly Motif Challenge. October's challenge was to read a ghost story.)