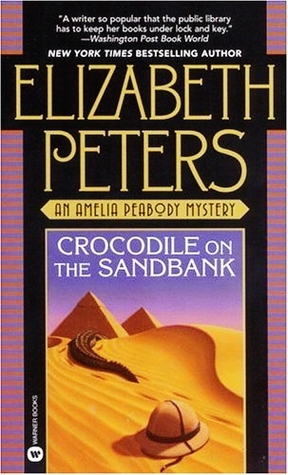 Miss Amelia Peabody, bluestocking and self-proclaimed "spinster," has left England to pursue her passion for Egyptology. It's 1884 — on the cusp of the 20th century — and she's determined to spend her inheritance doing what she enjoys.
En route to Cairo, Amelia meets Miss Evelyn Barton-Forbes, a young woman with a shameful secret. Amelia takes the girl under her wing, and together they embark on the adventure of a lifetime.
This adventure takes them to Amarna, the ancient city established by Akhenaten more than 500 years previously. They meet up with two gentlemen they met in Cairo: Radcliffe Emerson, a prickly excavator, and his brother Walter, a master of hieroglyphics.
Something strange is happening on the outskirts of the destroyed city. The locals are nervous, especially after a mummy goes missing. Amelia, Evelyn, Radcliffe, and Walter are under siege, and their enemy may be supernatural.
Cheeky and wonderful
Crocodile on the Sandbank is the first in author Elizabeth Peters' Amelia Peabody series, and it is fantastic. Set in 1884 but published in 1975, it's a marvelous mixture of Victorian language and modern thinking.
Amelia is my new favorite character. She's smart, practical, and outspoken, with a soft sentimental underbelly she tries to hide. If you enjoy Beatrice and Benedick's relationship in Shakespeare's Much Ado About Nothing, you'll love Peters' book.
Evelyn and Walter are younger and stupider (in Amelia's opinion as well as mine), and it's fun seeing Amelia boss them around and mow down their ridiculous notions like so much grass.
Although I caught onto the mystery's final solution before it was revealed, the journey to that solution was surprising and exciting. The story and characters are fun, funny, and charming.
I loved Crocodile on the Sandbank. And the best part? There's 19 more books in the series!
(I read this book for the Monthly Motif Challenge. February's challenge was to read a book involving spies, detectives, private investigators, or a character in disguise.)