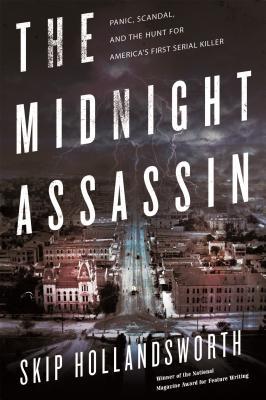 In the early 1880s, the city of Austin, Texas was on the rise. The backwater at the edge of the United States was officially a boom town, complete with over 11,000 citizens, an air-cooled ice cream parlor, and an opera house. The town coffers were full, and the new Capitol building (under construction since 1882) was said to rival the White House itself. The city was on its way to being the jewel in the South's crown.
Until women started dying. On December 30th, 1884, Mollie Smith was murdered in her room. Clara Strand and Christine Martenson were attacked in March 1885, and Eliza Shelly and Irene Cross were killed in May. Clara Dick and Rebecca Ramey were attacked in August — Rebecca's 11 year-old daughter Mary was killed. Gracie Vance died in September, while Lucinda Boddy and Patsey Gibson were also injured. And finally on December 24th, 1885, Susan Hancock and Eula Phillips were killed.
The killer was brutal, dragging many of the women into their yards before hacking them apart with an axe and stabbing some kind of sharp object or rod into their brains through their ears.
If you think this modus operandi — female, mostly lower-class victims, incredibly savage attacks — sounds familiar, you're not the only one. Some people believe that the "Midnight Assassin" murders stopped only because the killer had hopped the Pond to England. There he continued his vicious killing spree under a new name: Jack the Ripper.
Seriously, guys?
I love true crime, but it's not a fun genre.
The Midnight Assassin has all of the things that frustrate me: violent crimes against women, racism, shoddy police work, and no satisfying conclusions.
These murders happened when forensic science was in its infancy: we knew that humans had unique fingerprints, but we hadn't figured out how to use them in murder investigations. It was a time when people would routinely tromp through a crime scene, destroying what little evidence remained.
The first victims were African-American (or African-Swedish) — less than 20 years removed from the end of slavery, their lives were considered less valuable, and their murders less worthy of intense investigation.
Even after the investigation began in earnest, many of Austin's leaders took a "head in the sand" approach to the murders. They seemed to think it would all just go away. The police arrested dozens of men on almost zero evidence, hired charlatan "special investigators," and in general made such a pig's ear of the whole thing that I'm not surprised the killer got away.
The mind of a killer
The Midnight Assassin was America's first true serial killer. The country had experienced "maniac" killers before, but this man was something new: a person who targeted a specific type of victim, planned his attacks carefully, escaped unnoticed, and didn't seem to have a typical motive like jealousy or revenge.
Psychological profilers existed, but weren't called to help investigate murders they way they are today. Never before had America seen a criminal who killed so violently…for no known reason.
The police and media blamed the murders on "bad blacks," the mentally ill, and Austin's criminal element. But these murders were committed by someone clever and quick, someone who could blend in as a normal citizen during the day and slip out at night to bludgeon and dismember women. And that's what makes this story that much more frightening.
A London connection?
It's interesting to think about. I don't think the Ripper woke up one day and just started killing sex workers in England; and I don't think the Midnight Assassin woke up one day and stopped killing women in the US.
Was the Austin killer the same person who would rise to international fame as Jack the Ripper in London's West End? I don't think so. Yes, the Midnight Assassin killed women brutally, and there were some ritualistic elements…but the Ripper was at another level of hatred and precision. The types of violence acted out on these women were just too different — I don't see a clear path of escalation from one to the other.
We'll probably never know. Too much time has passed, and we just don't have enough preserved evidence.
The Midnight Assassin is a marvelously well researched and written book that I'd recommend to Ripperologists and anyone interested in true crime in general. Just don't expect a satisfying ending.
(I read this book as part of the Off the Shelf Reading Challenge.)