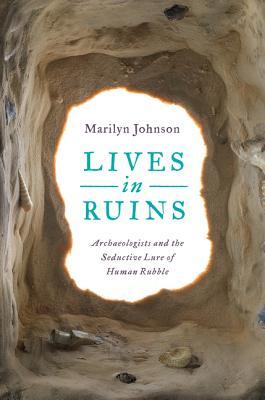 Most people know a little bit about archeology, or have heard about Machu Picchu, Pompeii, and the pyramids. But what do we know about the people who discovered these places, or any of the thousands of other archeological places of interest around the globe? What makes them obsessed with digging through the dirt an inch at a time?
Lives in Ruins: Archeologists and the Seductive Lure of Human Rubble is author Marilyn Johnson's search for answers to these and other questions.
Worth digging into
I read one of Johnson's books, This Book is Overdue!, about four years ago and was impressed by her level of research. So when I saw that she'd written a book about another fascinating topic, I scuttled down to the library and grabbed a copy.
The first thing this book does is eviscerate the romantic notions of archeology. Archeologists are finding great stuff, of course, but they're slogging ankle-deep through mud, bugs, and red tape to do it.
Archeology is not a profitable job. The education is expensive, the work difficult and sometimes dangerous. Most outsiders don't understand what it means to be an archeologist, or the value of the things they scratch from the earth.
Lives in Ruins reads almost like a set of short stories. Each chapter follows a different archeologist as he or she fights to discover and preserve the past. My favorite chapters focus on aspects I knew little about: marine and military archeology. I love the idea of volunteers and deployed members of the armed forces educating themselves on how to spot and preserve archeological finds.
Johnson has written another good book, one I recommend you check out — especially if you're an archeology buff.
(I read this book for the Monthly Motif Challenge. August's challenge was to read a book in which the season, the elements, or the weather plays a role in the story.)