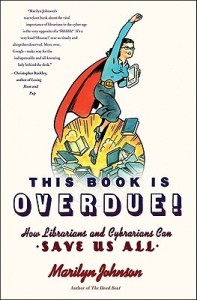 The advent of the Internet has left the world awash in information. The answers to our questions are out there on the web, but how do we find them? And how do we know if the answers we find are correct? Enter the awesome but totally under-appreciated librarian.
These tireless individuals have always been associated with books, but they have also become the guardians of the information superhighway, helping patrons sift through the content they've got to find the content they need.
There's no doubt that times have changed, but librarians are changing with them. Whether it's through blogging, virtual libraries in Second Life, smartphone apps, or missionary work, librarians are finding new ways to archive and share information.
The death of the librarian is far from certain. Because in a world chock full of information, we will always need someone who knows what she's doing.
Librarians rule
It's tempting to think of librarians as sweater-wearing middle-aged women who seem to do nothing but sit at their desks and click around on their computers — at least, that's the impression I always get when I visit my local library. I suppose I always knew that there's more to the job than that — I mean, you have to get a degree in Library Science before you can be a librarian — but I didn't really know how much more until I read Marilyn Johnson's book.
Librarians are archivists, technophiles, sharers and guardians of knowledge. They fight against budget cuts, censorship, and governmental bodies accessing patrons' borrowing histories.
This Book is Overdue! introduced me to many librarians who are finding amazing ways to share information, but the most interesting to me was a group who uses the online 3D virtual world Second Life as their literary playground. Whether they're finding answers to people's questions when visiting a new city (Where's a good place to eat? Is the public transit safe at night?) or building a to-scale digital replica of the White House as it looked during Lincoln's presidency, they're find new ways to create online communities.
Johnson's book covers many bookish topics, but most of it seems to be centered around large library systems in places like New York. What about small-town librarians who are finding creative ways to engage their communities?
That small complaint aside, it's nice to read that the rumors of the death of libraries have been greatly exaggerated, and that librarians are still finding, archiving, sharing, and protecting information.
(This post is part of Non-fiction November. Click the link to see posts from this and previous years!)