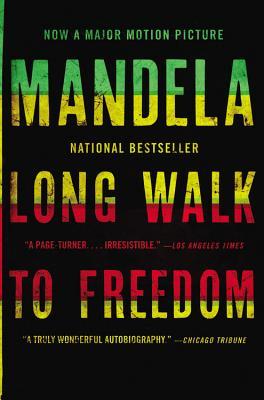 Anytime we're asked to list them, Nelson Mandela is inevitably numbered as one of history's greatest political leaders. But like many of my contemporaries who were still children when apartheid fell, most of what I know about Mandela comes from films like 2009's Invictus, or 2013's Mandela.
I love a good primary source, so this November I picked up a copy of Nelson Mandela's autobiography, Long Walk to Freedom. I wanted to learn more about his life, and how he got involved in the politics that would eventually free millions of South Africans from apartheid.
Turns out it was all sort of a matter of chance.
A rural upbringing
Nelson Mandela (born Rolihlahla Mandela) was born in rural Africa in 1918. As the son of a prominent advisor to the Acting King of the Thembu people, Nelson believed that it was his responsibility to stay close to his village and do all he could to protect and improve the lives of his people.
This plan changed when Mandela's father died prematurely. The further he moved from his village for education and job opportunities, the more Mandela realized that he wanted to help all Africans, not just his tribal family.
Political beginnings
When Mandela first arrived in Johannesburg to see if he could make a living practicing law, he avoided politics; it wasn't until several years later that he joined the African National Congress (ANC) and helped form the ANC Youth League.
Changing the strategy
The ANC was established in 1912, and had always promoted peaceful protest and civil disobedience over violence. In response to continued abuse of black South Africans by an apartheid government, Mandela led the formation of Umkhonto weSizwe (Spear of the Nation), the "militant" wing of the ANC. This group set off explosions near government buildings, hoping to change through violence what Africans hadn't been able to change through disobedience.
26 years' confinement
Mandela was arrested and tried for numerous crimes, and in 1964 he and several other ANC leaders were sentenced to life in prison for sabotage. Mandela would not be freed until 1990.
Long Walk to Freedom goes into great detail about Mandela's imprisonment. He spent most of his sentence at Robben Island, breaking rocks in a limestone quarry and agitating for prisoners' rights. In the mid-1980s he began talks with the apartheid government, which was threatening to collapse under the strain of ever-mounting race riots.
In 1990, Mandela was released from prison, and in 1994 participated in South Africa's first free election. He was South Africa's first democratically elected President, and after a single term spent the rest of his life doing what he had always done: fighting for equality.
A hard, beautiful read
It's difficult to sum up a 625-page autobiography, and I can't pretend to have done the work justice. Long Walk to Freedom is a story of one man, but it's also the story of a nation struggling to become truly free.
The book is full of details I didn't know, but the biggest thing I hadn't really learned was that the ANC has Communist leanings, and that at the time of his arrest, Mandela was a member of the South African Communist Party. My American brain is hard-wired to think that freedom fighters were/are fighting for democracy, which isn't often the case.
The chapters about Mandela's time in prison — where he started writing his autobiography — were the most interesting. Like his guards and fellow prisoners, I have a hard time understanding why he spent so much time campaigning for things like long pants (African prisoners had to wear shorts, like children) when he spent most of his time in a six-by-six windowless cell.
Nelson Mandela's calling was to fight for equality…whether that meant wearing the same long pants as white prisoners, or being able to vote and having equal representation no matter the color of your skin. He wasn't perfect, but he fought for what he believed in, and never sank to the level of his oppressors.
Mandela died in 2013, but his incredible work lives on.
(I read this book as part of Non-fiction November, as well as the 2015 Monthly Motif Challenge. November's challenge was to read a book published before the year 2000.)