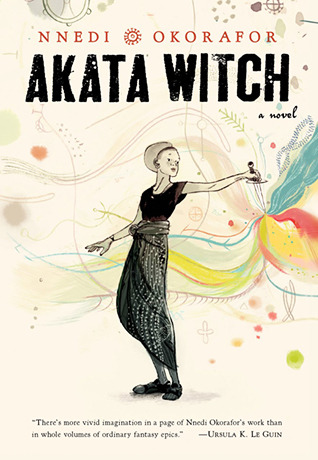 For 12 year-old Sunny, every day is a challenge. She was born in America, but her parents have brought her home to Aba, Nigeria. As an American she's already the class freak; combined with her albinism, she's mocked as a witch and has few friends.
Things start to change when she meets Orlu, Chichi, and Sasha. Her new friends inform her that she is a Leopard Person, born with innate magical abilities. Her albinism is an indicator of these abilities, and lets her slip between shadows and worlds as if invisible.
But Sunny cannot stay invisible for long. The four children form the youngest coven of Leopard People in history; it is their mission to track down Black Hat Otokoto, who has kidnapped and maimed dozens of children.
The coven is young, and new to magic. Can they defeat Otokoto in time, or will his dark spells bring about the end of the world?
A solid start
Akata Witch has been on my TBR list for so long that I'd forgotten what it was supposed to be about. I'm glad I finally got my hands on it.
The world building is good, if a bit overwhelming. Not only did I have to wrap my head around the Leopard People and their world, I also had to remember that the book is set in Nigeria. Both cultures involve different words and names and mythologies than I'm used to; I was probably 100 pages in before things really gelled.
I loved that the Leopard People value learning above all else, and that the things that make them strange in the normal world are the things that give them power in the magical lands.
Sunny is a wonderful character, brave and insecure and curious and stronger than she knows. The other members of the coven, and even many of the adults, blur together a bit, but Akata Witch is the first in a series — author Nnedi Okorafor should have plenty of space to flesh them out in future books.
For me, the mystery of Black Hat Otokoto was less interesting than following the kids' education and adventures. But that doesn't bother me; those characters are more three-dimensional and flawed and funny than a guy who's Definitely Bad News.
I do have a couple small quibbles, though.
First, I don't understand why the prologue is written in first person, while the rest of the book is in third person. The change put extra distance between me and the main character, delaying my eventual enjoyment of the story.
Also, the kids feel mature for their ages. Aside from two "I'm totally being a pre-teen/teenager right now" moments, I think the kids' behavior was the littlest bit unbelievable. They also seemed to accept their "destinies" with few questions…it just rang kind of false.
That said, I still enjoyed Akata Witch. It's great middle-grade fiction, teaches some important lessons, and overall is a fun adventure for readers of any age.
(I read this book for the Monthly Motif Challenge. April's challenge was to read a book that has won a literary award, or a book written by an author who has been recognized in the bookish community.)