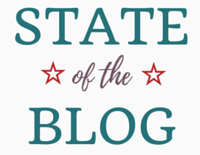 It's four days till Christmas, and I'm heading out the door to celebrate with family — mostly by eating an embarrassing amount of tamales. But first, some end-of-year stats!
First, the basics
Books read in 2016: 56 (13 since 10/1)
Audiobooks: 0 (0 since 10/1)
Ebooks: 6 (0 since 10/1)
Pages read: 17,725 (3,414 since 10/1)
Books reviewed: 31 (3 since 10/1)
Books not enjoyed: 5 (1 since 10/1)
Books not finished: 1 (1 since 10/1)
Library books: 21 (3 since 10/1)
Re-reads: 4 (0 since 10/1)
Genre breakdown (year totals)
Fiction: 31
Non-fiction: 25
Young adult: 3
Fantasy: 3
History: 8
Memoir: 4
Mystery/Thriller: 22
Humor: 3
Gender/sexuality: 4
Paranormal/supernatural: 4
Period piece: 6
Children's literature: 2
Reading for work: 4
Reading challenges
Charity Reading Challenge: 56 books @ $2/each = $112 donated to Camfed
Monthly Motif Challenge: 11/12
Off the Shelf Reading Challenge: 2/9
The Write Stuff: 3/4
I'm so excited to give to Camfed again this year. My company matches donations as well, which means I'll be able to put one girl through an entire year of school. She'll go on to earn 20% more as an adult, and be less likely to die in childbirth. Want to change the world? Educate a girl.
I also really enjoyed The Write Stuff. I met most of my goals, including finishing two short stories and the first chapter of a novel. Once you add in all the "in-character" snippets I wrote as part of a Dungeons and Dragons campaign, it's more creative writing than I've done in almost a decade. Crazy! Definitely going to keep this challenge going in 2018.
Some thoughts
It's the end of the year, which means my brain is mush. I'm trying to give myself permission to stop pushing, and focus on what I've done well and what's made me happy this year.
Book club is awesome. It's a group of bright, insightful women, and I've loved our conversations.
Professional development has been the name of the game these last few months. Lots of lessons learned.
Looking ahead
Excited to see what we read and chat about in book club this year.
I'm hoping to enjoy more creative writing challenges.
How did your 2017 reading turn out? What are you looking forward to in the new year?