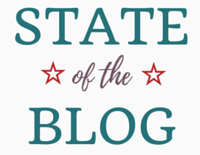 Another year, another State of the Blog. Time to look back…and forward.
First, the basics
Books read in 2014: 52 (9 since 10/1)
Pages read: 17,452 (3,004 since 10/1)
Books reviewed: 49 (11 since 10/1)
Books not enjoyed: 7 (3 since 10/1)
Books not finished: 3 (0 since 10/1)
Library books: 11 (4 since 10/1)
PaperbackSwap books: 1 (1 since 10/1)
Re-reads: 3 (1 since 10/1)
Genre breakdown (year totals)
Fiction: 29
Non-fiction: 23
Young adult: 8
History: 18
Fantasy: 10
Mystery/thriller: 11
Humor: 2
Gender/sexuality: 4
Paranormal/supernatural: 7
Biography: 2
First in a series: 2
Children's literature: 1
Reading challenges
Reading Outside the Box: 2/4
The Mount TBR Challenge: 4/12
Well, poo. I think my downfall on these was relying too much on the library. My local system has many of the books on these lists, but they're not all available at my nearest branch. Trying to coordinate inter-library loans with any kind of accurate timing is just too hard. Here's what I managed to read in 2014!
Some thoughts
Fairly balanced between fiction and non-fiction this year. Go me!
Once again my reading slumped off in the last few months of the year. This doesn't make me upset so much as just kinda bum me out.
Looking ahead
I've got a couple great books — including Froggy Style and the sequel to The Mangle Street Murders — waiting for me on my bedside table.
Just a few more working days until the long Christmas break. Come on, December 24th!
How did your 2014 reading turn out? What are you most looking forward to in the new year?