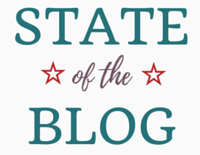 It's just a few days til Christmas. I haven't recovered from Thanksgiving yet, but soon I will be stuffing my face with even more delicious things and wallowing in a sea of wrapping paper. I'm hoping for good things in 2017, but first I want to take a look back.
First, the basics
Books read in 2016: 58 (32 since 7/1)
Audiobooks: 5 (0 since 7/1)
Ebooks: 9 (7 since 7/1)
Pages read: 19,528 (10,504 since 7/1)
Books reviewed: 33 (18 since 7/1)
Books not enjoyed: 3 (2 since 7/1)
Books not finished: 0 (0 since 7/1)
Library books: 38 (23 since 7/1)
Re-reads: 4 (4 since 7/1)
Genre breakdown (year totals)
Fiction: 33
Non-fiction: 25
Young adult: 6
Fantasy: 8
History: 14
Memoir: 6
Mystery/Thriller: 14
Humor: 5
Gender/sexuality: 6
Paranormal/supernatural: 7
Period piece: 5
Children's literature: 4
Reading for work: 3
Reading challenges
Charity Reading Challenge: 58 books @ $2/each = $116 donated to Camfed
Monthly Motif Challenge: 12/12 – COMPLETE
The Mount TBR Challenge: 3/6
Mount TBR is a bust once again. I think it's time to switch it out with something new. But I'm so proud of myself for completing the Monthly Motif Challenge, and definitely excited to donate $2 for every book I read in 2016.
Some thoughts
My reading is down from last year (when I read 73). The goal-oriented part of me is sad, but my rational side thinks I made good reading choices.
Fiction is still beating out non-fiction, but the ratio is much closer this year than last.
As much as I enjoy young adult novels, it's been nice to see that number drop this year.
The commute to my new job is much shorter, so I haven't listened to any audiobooks since April. I don't really miss them.
I've gotten hooked on podcasts. Currently I'm subscribed to more than 20. It's a sickness.
Looking ahead
I've sent my Christmas wishlist to my family, so fingers crossed I get some yummy books to take me into the new year!
I recently learned that Emily Nagoski (author of the fabulous Come as You Are) wrote what some people call a feminist version of Fifty Shades of Grey. I'm so in I could explode!
How did your 2016 reading turn out? What are you most looking forward to in the new year?