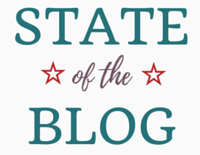 What a year! I didn't reach all of my reading goals this year, but I've certainly enjoyed the journey. I've read some great books (and some stinkers!), challenged myself, and found some amazing stories just outside my comfort zone.
Check out the final tallies for 2012.
First, the basics
Books read in 2012: 79 (14 since 9/1)
Pages read: 27,698 (4,083 since 9/1)
Books reviewed: 60 (8 since 9/1)
Books not enjoyed: 11 (1 since 9/1)
Books not finished: 3 (0 since 9/1)
Library books: 31 (5 since 9/1)
Re-reads: 14 (3 since 9/1)
Genre breakdown
Fiction: 63
Non-fiction: 19
Young adult: 19
Period novel: 16
History: 4
Horror: 2
Fantasy: 18
Mystery/thriller: 13
Humor: 7
Classic: 3
Gender/sexuality: 3
Short story/essay: 2
Paranormal/supernatural: 9
Biography: 2
Religion/Spirituality: 5
Play: 1
Graphic novel: 2
Memoir: 4
Reading challenges
Pay it Sideways Challenge: 9/12
Back to the Classics Challenge: 7/9
Some thoughts
Read the same amount of non-fiction as I did Young Adult novels. Victory!
So close on both challenges! A combination of book buying embargo and a less-than-amazingly-stocked local library means that I fell short of my challenge goals this year. Bummer.
I enjoyed splitting this year's Non-fiction November into books and documentaries. I've always enjoyed the latter, and I'm glad to have found a way to incorporate more of them into my life.
Did a lot more re-reading this year than last. I blame a hectic work schedule that drained a lot of my energy for taking in anything new.
Used the library even more this year than last. My bookshelves and wallet breathed a sigh of relief!
Looking ahead
January 10, 2013 marks the beginning of my fourth year of blogging. Woohoo!
I'm working on compiling my list of reads for 2013. Surprise, surprise, it's heavy on the fiction.
Planning to dive into Reading Outside the Box and Mount TBR reading challenges in 2013. More on those in the new year.
How did your 2012 reading turn out? What are you most looking forward to in the new year?