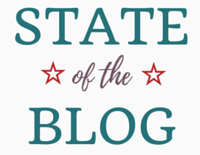 How is 2015 over already? Let's talk nerdy.
First, the basics
Books read in 2015: 73 (46 since 7/1)
Audiobooks: 13 since 7/1
Pages read: 24,911 (15,838 since 7/1)
Books reviewed: 54 (27 since 7/1)
Books not enjoyed: 11 (5 since 7/1)
Books not finished: 1 (1 since 7/1)
Library books: 37 (21 since 7/1)
Re-reads: 9 since 7/1
Genre breakdown (year totals)
Fiction: 51
Non-fiction: 22
Young adult: 9
History: 17
Fantasy: 11
Mystery/thriller: 26
Humor: 1
Gender/sexuality: 1
Paranormal/supernatural: 15
Autobiography/Memoir: 9
Children's literature: 1
Marketing: 2
Self-help: 2
Reading challenges
Monthly Motif Challenge: 10/12
The Mount TBR Challenge: 6/12
Missed it by that much. I tend to get a slow start on challenges, so what I really need is something that last 10 months instead of 12. I have fun, so I'm trying not to stress about completion rate. Here's all the reviews from my 2015 reading challenges.
Some thoughts
I read 20 more books this year than in 2014. Managed to review a few more, too. Cool!
Looks like my normal fiction to non-fiction ratio has reasserted itself. But 2015 was a great year for non-fiction reads, so it all balances out.
Looking ahead
Christmas is nearly here, and I'm hoping Santa brought me some fun reads!
My morning commute continues to be shitty, so audiobooks will be an even bigger part of my life this coming year.
How did your 2015 reading turn out? What are you most looking forward to in the new year?