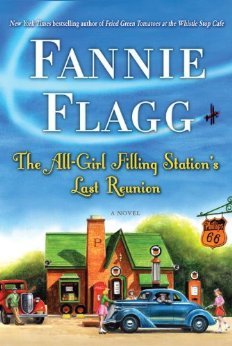 Sookie Poole of Point Clear, Alabama has just married off her three daughters (one of them for the second time), and wants nothing more than to spend time traveling with her husband Earle. Her only problem? Lenore Simmons Krackenberry.
Everyone in town loves Lenore, but Sookie has always found her mother overbearing and obsessed with her daughter's perceived shortcomings.
When Sookie stumbles upon a secret that calls her entire life into question, she embarks on a journey that takes her not only across the country, but also back in time.
In the early days of World War II, Fritzi Jurdabralinski is amazed to find herself and her three sisters — the daughters of Polish immigrants — taking over the running of the family's filling station. But that adventures pales in comparison to the one on which she is about to embark.
Funny, heart wrenching, and covering small-town life as well as a little-known aspect of America's twentieth-century history, The All-Girl Filling Station's Last Reunion is another slam dunk by author Fannie Flagg.
Amazing small-town settings
Whether the chapter is set in 1940s Pulaski, Wisconsin or present-day Clear Point Alabama, Flagg positively nails the small-town atmosphere. It's something she's known for, and it's one of my favorite things about her novels.
Authors tend to set their books in "special" or "big" places, like New York City or the magical towns about which authors like Sarah Addison Allen write.
What I love about Flagg's books is that they're set in places that feel real; the towns in her novels aren't magical, but amazing things happen there nonetheless.
Just perfect
The All-Girl Filling Station's Last Reunion centers around Sookie Poole, a 50-something mother of four who's spent her entire life trying to live up to her mother's expectations. But when she learns that Lenore is not who she thought she was, she must come to terms with it while also working toward understanding and forgiving her mother for her deception.
As Sookie begins her search for the ruth, the reader is taken along for the ride through time and introduced to more strong, funny, hardheaded characters: the Jurdabralinski family and the Wisconsin community they call home.
The 1940s was a frightening, uncertain time in America and throughout the world. But Fritzi and her sisters are something special, and I found myself holding my breath during each of their adventures and scrapes, hoping the war would leave them all unscathed.
I felt a special kinship with the oldest and youngest Jurdabralinski sisters: wild, impulsive Fritzi (who leaves home to join a flying act as a stunt performer) and kind, quiet Sophie Marie (who does her best to follow in Fritzi's footsteps).
There are many small side plots and stories, and Flagg made me care about them all.
A shadowed history
Did you know that there were female pilots in WWII? I sure as hell didn't.
The 1,074 Women Airforce Service Pilots (WASPs) never experienced direct combat, but together they ferried thousands of different types of aircraft from factories to military bases, and towed thousands of drones and aerial targets around the United States.
[pullquote]Did you know that there were female pilots in WWII? I sure as hell didn't.[/pullquote]
Most of these women were not recognized and honored for their contributions until the late 1970s, when their records were declassified. These women proved to their country that when given the same training as their male counterparts, they were just as capable in non-combat flying.
The National WASP WWII Museum is located in Sweetwater, Texas (one of the training sites set up for these pilots), and is filled with photos, several of the 77 types of aircraft the women flew, and a six-person bay where the women lived during their training.
And at the center of it all, inscribed in the floor of the museum's hangar, the most uniquely-designed Airforce wings:
The WASP wings…were designed for the WASP with a diamond in the center that symbolizes the shield of Athena — Greek goddess of war.
I cannot believe this history isn't more well-known, covered in history classes, and discussed in book clubs.
Read it right now
Once again, Fannie Flagg has hooked me into a story, made me fall in love with her characters, and gotten me thinking.
The All-Girl Filling Station's Last Reunion, like all her other novels, is a masterpiece. Read it today.