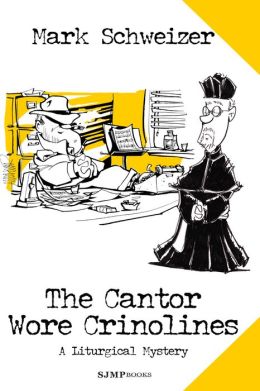 Hayden Konig leads a charmed life. He's a fantastic detective, rich, the organist and choir director at St. Barnabus Church, and has the best-looking wife in three counties. Yet he remains discontent.
The one thing Hayden wants most in the world is to be a famous noir detective writer like his hero, Raymond Chandler. He even buys Chandler's old typewriter in an effort to capture some of the man's inspiration. The effort is less than successful.
It's not like he has much time to write anyway, what with the new priest scheduling a last-minute Candlemas Evensong and the three bodies turning up in recently-auctioned foreclosed homes.
Clues are slow to turn up, but when they do they point directly at the Blue Hill Bookworms, an exclusive book club whose recent trashy mystery novel read shows remarkable similarities to the real-life crimes.
Can Hayden find the murderer, prepare the choir for Candlemas, and find time to finish his opus?
Ridiculous and wonderful
My Mother-in-law has talked about this series off and on over the years, and when my birthday came around a couple weeks ago what did I find in the mail but a copy of The Cantor Wore Crinolines, the 12th in author Mark Schweizer's The Liturgical Mystery series.
The of St. Germaine, North Carolina is similar to many small towns throughout the south, filled with odd characters and restaurants with punny names (the local bakery is called Bun in the Oven).
Hayden is a great guy and a good detective, but a god-awful writer. The reader is "treated" to excerpts from his noir novel throughout the book, and I don't know how Schweizer could have made his character a worse writer. For example:
Her lips were fleshy and wanting in that kind of way that lips get after eating Hunan spicy beef with Szechuan peppers, extra hot, with enough monosodium glutamate to exacerbate water retention and cause lips to be as plump as a couple of meal worms. I thought about lunch.
I can't even. And this is Hayden at his best — his novel gets worse the more you read.
That's my only complaint, in fact. At first it's fun to read Hayden's excerpts, but they happen just a little too frequently and rapidly devolve into drivel so bad I simply started skipping those sections. I felt like they distracted me from Schweizer's real story, which is well-written and enjoyable.
Although the novel is 12th in the series (the first book is The Alto Wore Tweed, in case you're interested), I never felt lost. Schweizer's homey writing style had me hooked quickly, and his world building was complete enough that I never felt like I was missing something.
There's a little of everything in this novel: a well-crafted mystery, snobby book-clubbers, obnoxious clergy, and gossiping, over-enthusiastic townspeople. What's not to love?