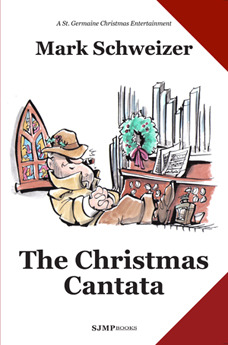 It's three weeks until Christmas, and the normally cheery town of St. Germaine, North Carolina is stuck firmly in the dumps; in the words of Police Chief/choir director Hayden Konig, everyone is "crabby." What everyone needs is something to get them in the Christmas spirit — fast.
The first glimmer of light winks on when Hayden discovers a worn copy of La Chanson d'Adoration, a cantata by Elle de Fournier. He's never heard of the piece or the composer, but a faded note in the music states that it premiered in St. Germaine on Christmas Eve 1942.
As Hayden works with the choir to ready the odd but spellbinding piece in time for the Christmas Eve service, he also speaks with the town's oldest citizens who might remember meeting the composer. It turns out the answers he wants might be closer than he thinks.
A sweet Christmas story
The Christmas Cantata is set in the same town and stars the same characters as The Cantor Wore Crinolines, one of author Mark Schweizer's dozens of novels about Hayden and St. Germaine.
The focus of this novella is not murder, fortunately, although there are mysteries aplenty: Who composed La Chanson d'Adoration? Can the choir prepare it in time for Christmas Eve? How many flasks does Marjorie really have hidden in the choir loft?
Schweizer's book switches back and forth between the present, with its small-town personalities and situations, and the past, showing how Elle de Fournier came to St. Germaine and the tragic truth behind her composition.
The story is tender, heartbreaking, and ultimately sweet and satisfying. It's by no means a fluff piece, but it's got all the best themes — love, forgiveness, kindness, laughter — of a Christmas story. Highly enjoyable, perfect for cozying up with under a blanket with some hot chocolate.
What's your favorite Christmas read?