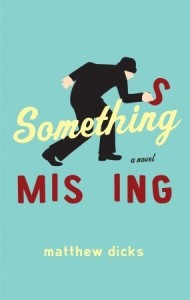 I love moments like this: when I stumble across a book that turns out to be one of the best reads of my summer. I'm still a little bitter about the Curse of the Bargain Bin Book, so it's been nice to get back to my regular awesome reading.
Today's book was a great reminder that, yes, some authors actually do write well. Check out Something Missing.
The Plot
Martin spends a lot of time in his clients' homes. He inspects bathrooms, bedrooms, refrigerators, and cabinets–entire homes from top to bottom. But Martin is not a safety inspector, a construction specialist, or even an exterminator.
Martin is a thief.
His OCD tendencies, however, prevent him from being the lowly "smash and grab" type. Those guys go into a home with no plan, no idea if anyone is home, if there are pets and/or children, alarm systems, or a myriad of other dangerous-to-criminals things. Martin hates the idea of being caught, and he plans accordingly. So he's got some rules.
#1 — If the missing item will be noticed, don't acquire it.
#2 — Always married, without children, maids, or dogs.
#3 — Never too rich, never too poor, and never, ever through inheritance.
But the one rule, the rule so huge that he didn't even think it needed to be considered, is, don't get involved.
But after a dropped toothbrush and a terrifying half-hour scrunched in a closet, Martin hears something he isn't supposed to. His first attempt to positively affect the lives of his clients is completed without much danger, but soon a true bad guy ups the ante, and Martin must decide between his clients' safety and his own.
The Review
Despite his career choice, Martin is an extremely likeable character. His eccentricities often had me undecided as to whether to laugh or be completely confused.
He is also a man after my own heart. The book begins with him rifling through the Pearls' refrigerator, and 29 pages in the reader is still hearing about Martin's rules and process. He's an analytical, logical, paranoid, and surprisingly courteous thief.
There is, however, the obvious question of whether or not it is fair for Martin to be breaking into other people's homes to take things he could easily purchase if he would only lend his energies and talents to a non-illegal job. But Martin shrugs this possibility off by saying that he was "dared" into the career by his domineering stepfather.
But of course things are never black and white. The more involved he becomes in his clients' lives, the more Martin finds himself interacting with others, and the more he begins to realize that he doesn't want to live his life in his solitary bubble.
Final Thoughts
I think that Something Missing is an excellent blend of humor, logic, sneakiness, and bravery.
This book is a great one to take with you wherever you go. Recommend it to friends, family, co-workers, and complete strangers. Dicks' next novel is set to be published sometime in 2010.
Suggested Soundtrack:
Falling for the First Time (Barenaked Ladies)
And So It Goes (Billy Joel)
Kick-ass Quotes:
"Eventually Martin would spend time examining photo albums, searching through boxes of old letters and greeting cards, and reading diaries (though sadly most of his clients kept no such written record of their lives). He watched his clients as they aged, celebrated holidays and anniversaries together, and suffered through hardships. On one occasion he followed a client through her diary entries as she discovered a lump in her breast, was diagnosed with cancer, and battled her way to recovery, losing a breast in the process. There were mornings when he was in tears as he read through her words while sitting at the woman's desk." (pp. 33-34)