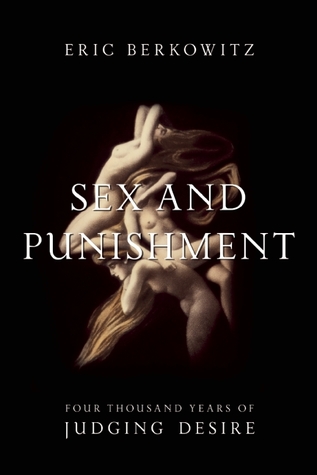 **This review contains adult language and discusses sex and sexuality in frank terms.**
As long as sex has been around, humans have created rules regulating it. Eric Berkowitz's Sex and Punishment: Four Thousand Years of Judging Desire is an in-depth look at the history of that regulation, from ancient Mesopotamia to Oscar Wilde's 1895 imprisonment for "gross indecency" with one of his lovers.
With stops in Egypt, Rome, Greece, Western Europe and North America, Sex and Punishment is a fascinating study of sex laws and how they influenced (and were influenced by) religion, culture, and other aspects of the law.
It's always been about control
Mainly of women, but of men as well.
In the eyes of many ancient cultures, women were property, and were subject to the same "no trespassing" laws as homes and other inanimate objects. They (and their lovers) could be killed by husbands who caught them misbehaving, or ordered by law to be raped in retaliation for their husbands' rape of another.
[pullquote]When lawmakers view sex as bad, they write bad sex laws.[/pullquote]
In contrast, males in ancient Mesopotamia and Greece had it pretty easy, assuming they were members of the upper class. They were able to visit as many prostitutes and have as many mistresses as they could afford, as long as they weren't blowing (ha!) the fortune meant to pass on to their sons.
It wasn't until much later in history that punishing sexual indiscretions became less about property rights and more about moral and religious codes.
From state to church
Berkowitz posits that this change began with the ancient Jews, who created a set of laws designed to set themselves apart from the regions other ethnic tribes (with whom they were at war). What began as a bit of an upstart religion took hold, and has held amazing sway ever since:
…the moral strictures of the ancient Jews, held together with the molasses of shame and terror of God's punishment, have been more influential on Western sexual attitudes than any other collection of ideas.
England and France rose as Rome fell and Greece receded in power, and the responsibility of rooting out and punishing sexual misconduct shifted from the courts to the cathedrals.
Both the Catholic and Protestant churches did their best to discourage vice and encourage "proper" sexual mores, but as the author points out:
When lawmakers view sex as bad, they write bad sex laws. No one found a way to regenerate with coitus, so sex had to be tolerated at least some of the time, but the church quickly started to restrict the options.
Homosexuality was a sin, of course, as was masturbation. But then so was having sex on Easter, around Christmas and around/on other holy days, when the woman was menstruating, on certain days of the week…on and on.
Many of these "sins" committed by parishioners were discovered by their ministers or priests, and dealt with by imposing fasting or praying; it wasn't until later that prosecuting sexual activity once again became the court's responsibility.
Can we become other than what we are?
I don't feel comfortable with the Marquis de Sade's entire philosophy, but I feel the same as he about the entire topic of regulating sexual behavior:
Will it never be understood that there is no variety of taste, however bizarre, however outlandish, however criminal it may be supposed, which does not derive directly from and depend upon the kind of organisation which we have individually received from Nature?…Even were one to desire to change those tastes, could one do so? Have we the power to remake ourselves? Can we become other than what we are?
I'm a "live and let live" kind of person, and reading about all the ways countries, states, and religions have stuck their noses into people's private lives really steams my broccoli, especially as a lot of the blame has historically landed on women's shoulders.
Things have improved in recent decades — sodomy laws are being repealed and gay marriage is now legal in 19 states — but we've got a long way to go when it comes to sex.
Well worth your time
If you're interested in history and/or the study of sexuality, I recommend you give Sex and Punishment a read.
My only complaint about this book is its abrupt ending. The final chapter wraps up a discussion of Oscar Wilde's trial and imprisonment, as well as the trial of two homosexual men in early 20th century France, and that's it. No summary, no final thoughts from the author. It's so jarring that I actually checked the book for missing pages.
Aside from that, Sex and Punishment is a detailed, well-researched book about a touchy (couldn't resist) subject; there's so much great stuff that I can't talk about all of it here. Pick up a copy!