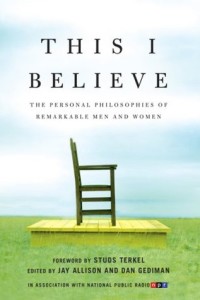 I've used my recent weeks' commute to listen to This I Believe, a series of 80 recordings of people — alive and dead, famous and not — sharing their personal philosophies in just a few hundred words. Originally conceived in 1949 and revived in 2003, This I Believe has become a global phenomenon and a testament to humanity.
Some quick history
This I Believe. By that name we bring you a new series of radio broadcasts presenting the personal philosophies of thoughtful men and women in all walks of life. In this brief time each night, people of all kinds who need have nothing more in common than integrity or real honesty will talk out loud about the rules they live by, the things they have found to be the basic values in their lives. We hardly need to be reminded that we are living in an age of confusion. A lot of us have traded in our beliefs for bitterness or cynicism, or for a heavy package of despair, or even a quivering portion of hysteria…What truths can a human being afford to furnish the cluttered, nervous room of his mind with, when he has no real idea how long a lease he has on the future? It is to try to meet the challenge of such questions that we have prepared these broadcasts.
These introductory words were spoken by host Edward R. Murrow in 1951, when This I Believe first aired on radio. Original speakers included famous individuals such as birth control champion Margaret Sanger, scientist Albert Einstein, and activist/author Helen Keller; soon, however, the program was opened to anyone who wished to submit their philosophy.
At its peak of popularity in 1954, 39 million Americans (and millions more around the world) tuned in to This I Believe. The program resulted in four bestselling books and a two-record album of the recordings, but came to an abrupt end in early 1955 after its main financial backer's death.
Almost 50 years later, a public radio producer home with the flu stumbled across a tattered copy of one of the This I Believe books and was struck by its applicability to the contemporary world. He revived the program with the help of NPR, and since then over 30,000 people have submitted their essays on the This I Believe website.
Thoughts on audio
Normally I prefer a physical book to an audiobook, but in this case it's the opposite. This I Believe was created for radio, and it's incredibly wonderful to hear the essays of such luminaries as Colin Powell, Jackie Robinson, and Bill Gates read by the individuals themselves. The ratio of "famous" to "regular" people is solid, and the balance of contemporary and older recordings shows that we've always had the same fears, problems, and positive hopes for the future.
My favorite essays
Although one of the purposes of This I Believe is simply to listen to others' beliefs without agreeing or disagreeing, there were essays I enjoyed more and speakers in whom I found a kindred spirit.
It is somehow gratifying to discover that there are others who believe as you do, who see the world in the same light. And if these five individuals and I agree, imagine how many millions more out there who do, too. It makes the world seem smaller and friendlier, and our highest aspirations more attainable.
So now the question is, what do you believe?