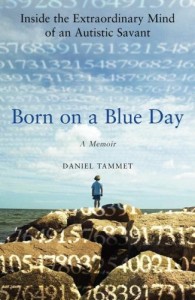 (I listened to this audiobook as part of the 2013 Audio Book Challenge.)
Daniel Tammet was born on Wednesday, January 31, 1979. He knows it's a Wednesday because the day is blue, just like the number nine or loud voices arguing. Tammet was born with savant syndrome, and has an obsessive need for order and quiet. He has Asperger syndrome as well as Synethesia, a set of disorders that when combined generally result in a person's total inability to cope with life on their own. Many individuals with savant syndrome are not capable of explaining to others how their minds work, which makes Tammet especially interesting to scientists and the world in general.
What a ride
I was expecting Tammet's novel to include more information on how he was tested and diagnosed with savant syndrome; I was pleasantly surprised to discover that Born on a Blue Day is less about reaching a diagnosis and more about the author explaining how his brain works, and how he copes with and transcends his disorders.
He truly does have a remarkable brain, even more so because he somehow retained the ability to interact with others, explain how he thinks and what he sees, and lead a relatively normal life: falling in love, living away from family, maintaining relationships with friends and family.
I most enjoyed learning about how Tammet lives day-to-day, and deals with situations that most people handle easily. It was interesting to hear about his childhood, a time when he knew he was different, but couldn't explain why — and how he practiced diligently to learn how to hold conversations and interact with those around him.
As he mentions he did as a child, Tammet sometimes rambles a little in his memoir — talking about numbers or a specific aspect of something that interests him for just a bit too long before getting back to the story.
Born on a Blue Day moves quickly (for the most part) and is full of fascinating details — especially about Synethesia, a subject I've loved since I did a short research paper on it sometime in high school. There's a whole section in chapter 9 where Tammet showcases research that indicates that most humans use a kind of "latent language synesthesia" when communicating — for example, giving round shapes made-up names with lots of round letters and vowels, and sharp shapes names with lots of Ts and Ks, etc.
Tammet brings the reader into his world and mind quickly and completely, and I highly recommend you give his book a try!
Thoughts on audio
The audiobook was six-and-a-half hours long, but only took me a week to get all the way through. Clearly the only good thing about a long work commute is that I don't have to drag a book out over weeks at a time.
It was produced by Tantor Audio and narrated by Simon Vance, winner of 43 Earphone awards from AudioFile Magazine. Vance was a fabulous narrator, taking the book at a brisk pace that kept me fully engaged.
I think I'll be on the lookout for more audio books this year. All in all a successful experience!