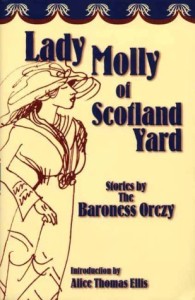 Baroness Emmuska Orczy is best known for her Scarlet Pimpernel series, but in 1910 a set of her short stories was the first to feature a female detective, Molly Robertson-Kirk.
Like her real-life counterparts who appeared a decade later, Lady Molly makes a great detective because she recognizes clues foreign to the experience of her male co-workers (a large hat looks larger on a petite woman, for example).
Critics of the time compared Lady Molly to the famous Sherlock Holmes (Doyle's first story featuring the male mastermind was published in 1887), and it's an accurate comparison: Lady Molly is intelligent, observant, and more than a little crafty.
I've never been the biggest fan of short stories, and unfortunately this seems to hold true for Lady Molly of Scotland Yard.
The 12 stories in the collection are held together by some common threads (including Mary, the faithful narrator), but in the end they felt just a little too fragmented for my taste.
Orczy included some "charming" racist details (mostly about the French and the servant class) that were jarring; but by far my biggest complaint is about how Molly goes about solving her cases.
I didn't love the Sherlock Holmes stories, but their main character at least relied on evidence to solve cases — Orczy most often has Molly relying on "feminine intuition" rather than real evidence.
She's always right, of course, but it makes for confusing reading. The first story, "The Ninescore Mystery," is solved without Molly's presenting a single solid reason why she was able to identify the killer — she just knows…because she's a woman, I guess?
Spoilers!
Also, the ending was — to use the technical term — blah. It was cool to discover that Molly became a detective in order to eventually clear her husband of a crime he didn't commit; but to have her finally solve the case and then quit the force to become some dude's wife?
I know that the ideals of feminism have changed dramatically since the 19th century, and that viewing the story through a contemporary feminist lens will result in nothing but disappointment.
Orczy ended her series appropriately for the time period, but that doesn't mean I have to like in 2014.