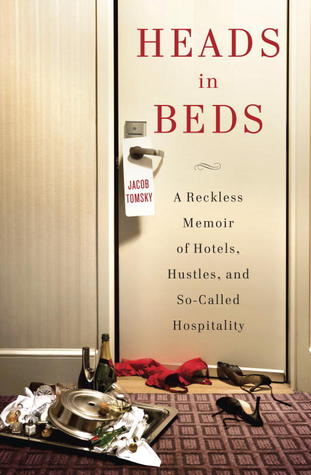 Fresh out of college with a degree in Philosophy, Jacob Tomsky wasn't exactly what you'd call hireable. After a few stumbles he ended up at the bottom of the food chain as a valet parker for a luxury hotel in New Orleans.
Some would call his rise through the hospitality industry meteoric; Tomsky is more likely to refer to it as a super nova (or at the very least a black hole).
From supervising housekeeping departments to managing the front desk at a Manhattan hotel, Tomsky has spent more than a decade checking you in, parking your car, eating your leftover room service, giving you wake-up calls, eating M&Ms out of your minibar, and generally sucking up in exchange for tips.
Heads in Beds: A Reckless Memoir of Hotels, Hustles, and So-Called Hospitality is both a guidebook to and critique of the industry, a mix of humor, horror, and tips for getting what you want as a hotel guest.
A great start
I loved the first half of Heads in Beds. Tomsky's tone is conversational, irreverent, and unflinchingly honest.
Even though hospitality can be a brutal industry, the New Orleans hotel at which Tomsky began his career was obviously run by (mostly) competent, nice people. Tomsky's obviously an intelligent guy, and by simply paying attention he was able to advance.
But a terrible ending
I lost interest pretty much as soon as Tomsky moved to New York. The hotel is grubby, his co-workers and bosses are pricks, and he spends the second half of Heads in Beds griping about how much he hates the industry.
He's given a couple "outs," a couple chances to fly the coop and do something different, but instead he stays where he's comfortable — and miserable — all the time using the "All I can do is this" excuse.
I'm not interested in reading a book written by someone who so clearly hates what he does. And I can't even muster up any sympathy because Tomsky does it to himself.
Read the tips, skip the story
My favorite parts of Heads in Beds are when Tomsky shares insider information about ways to get better service.
I don't really care about getting a complimentary bottle of wine, but it is nice to know exactly the steps to take when there's a problem with your room, as well as what's going on in the staff's head during any given situation. It makes it easier for me to put myself in the other person's shoes.
Unfortunately those tips are few and far between, and mostly involve greasing palms (not that I'm saying that's a bad thing; merely that it's not really a secret that money gets you better treatment). Beyond that it's mostly Tomsky bitching about upper management, unions, shitty customers, and how totally lame his job is.
Interesting if you're into that sort of thing, but not something I'd read again.