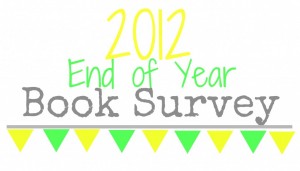 I love nothing more than revisiting books, and this survey created by The Perpetual Page-Turner is a great way to do just that. Here's some of my thoughts on books and blogging from this year.
1. Best Book You Read In 2012? (You can break it down by genre if you want)
There's no way I could pick just one book. So let's go by genre.
Fiction: No question, it's Hurt Go Happy. Amazing, amazing story with an amazing heroine. Just read it.
Non-fiction: I adored A Jane Austen Education, not only because I love anything about Austen's works, but also because I loved seeing William's journey from reluctant reader to confirmed Austenite.
Graphic novel: Shaun Tan's The Arrival was a gorgeous, word-free journey in the shoes of a stranger in a strange land.
2. Book You Were Excited About & Thought You Were Going To Love More But Didn't?
Ugh, The Three Musketeers. I loved The Count of Monte Cristo, and knew enough of the story of the Musketeers that I thought I would like the book. But it was so dull, and I never could get into it. One of only three DNFs of the year.
3. Most surprising (in a good way!) book of 2012?
The Princess Curse took me completely by surprise. I don't often read Middle Grade fiction, but although Haskell's novel had a fluffy beginning, it turned into something really amazing. It's supposed to be the first in a series, but there's no word yet on when the next is coming out.
4. Book you recommended to people most in 2012?
Whether it's his Thursday Next series, Nursery Crime series, or even his Shades of Grey series (which I only disliked because it's dystopian), I cannot recommend Jasper Fforde's writing enough. And now he's got his Last Dragonslayer series. Someone give this man a book award!
5. Best series you discovered in 2012?
I heard about Ariana Franklin's series from Trish of Desktop Retreat, read Mistress of the Art of Death for the Pay it Sideways Challenge, and then gobbled up the next three books in a matter of weeks. A little on the violent side, but amazingly well done.
6. Favorite new author(s) you discovered in 2012?
I didn't "discover" Bill Bryson in 2012, but I read my first of his books, At Home, early in the year. I cackled maniacally throughout. My mom's a huge fans of his books too, and it was really hard to stop myself from reading the one I bought her for Christmas before wrapping it. 🙂
7. Best book that was out of your comfort zone or was a new genre for you?
I had some serious doubts about The Sugar Queen, but I loved its combination of magic, Southern charm, romance, and just a touch of darkness.
8. Most thrilling, unputdownable book in 2012?
Snow Flower and the Secret Fan absolutely pulled me in and wouldn't let me go. It was incredibly compelling, and I loved it.
9. Book You Read In 2012 That You Are Most Likely To Re-read Next Year?
Definitely Warm Bodies. Not only because I'm still trying to figure out what I think about it, but also because they're making a movie adaptation and I need to know how much to despise it for not be accurate to the novel.
10. Most memorable character in 2012?
Ooh, a tough one. Torn between Jakob the hangman in The Hangman's Daughter and R in Warm Bodies — Jakob because he's a smart man who does what he knows is right, and R because…well, because he's a zombie who manages to de-zombify himself.
11. Most beautifully written book read in 2012?
Giving this one to Hurt Go Happy. Author Ginny Rorby pulled on my heartstrings, turning Joey and Sukari into real beings who both need saving. Read this one with a box of tissues.
12. Book that had the greatest impact on you in 2012?
This one goes to The Scarlet Letter, whose greatest impact—I'm sorry to say—was a near-constant stream of eye-rolling from me. You can check out my review for more details, but the long and short of it is that I don't like being beaten over the head with symbolism and allegory.
13. Book you can't believe you waited until 2012 to finally read?
I'm so sad I delayed picking up a Bill Bryson book. I read At Home back in January, and loved it. Can't wait to get my hands on another of his books!
14. Favorite Passage/Quote From A Book You Read In 2012?
I laughed out loud when I read this passage from At Home:
Most sewage went into cesspits, but these were commonly neglected, and the contents often seeped into neighboring water supplies. In the worst cases they overflowed. Samuel Pepys recorded one such occasion in his diary: 'Going down into my cellar…I put my foot into a great heap of turds…by which I found that Mr. Turner's house of office is full and comes into my cellar, which doth trouble me.'
15.Shortest & Longest Book You Read In 2012?
The Haunting of Hill House and The Arrival are tied for shortest at 128 pages each; my longest read was Bitterblue, which topped out at a whopping 563 pages.
16. Favorite Relationship From A Book You Read In 2012 (be it romantic, friendship, etc).
Friendship: My favorite friendship is the one between Joey and Sukari in Hurt Go Happy. They literally save each other's lives.
Romantic: I enjoyed the relationship between Adelia and Sir Rowley in Mistress of the Art of Death. They've got a bit of a Benedick and Beatrice Syndrome going on, which I always love. The relationship continues to develop in the next books in the series as well.
17. Favorite Book You Read in 2012 From An Author You Read Previously
I read mostly new-to-me authors this year, which I think shows a little growth. 🙂 But this one's a tie between The Haunting of Hill House and From the Mixed-Up Files of Mrs. Basil E. Frankweiler. Some amazing writing from Shirley Jackson and E.L. Konigsburg.
18. Best Book You Read That You Read Based Solely On A Recommendation From Somebody Else
Hurt Go Happy takes this category as well. However, during the course of the year I was recommended several books/series that I'm hoping to tackle in 2013:
The Chronicles of the Imaginarium Geographica series by James A. Owen
The Handmaid's Tale by Margaret Atwood
Looking Ahead
1. One Book You Didn't Get To In 2012 But Will Be Your Number 1 Priority in 2013?
I got copies of The Last Dragonslayer and The Woman Who Died a Lot (both by Jasper Fforde) for Christmas, so they'll both me my priority for January.
2. Book You Are Most Anticipating For 2013?
See above. Also, anything on my TBR list.
3. One Thing You Hope To Accomplish Or Do In Your Reading/Blogging In 2013?
I would love to get back into doing Top Ten Tuesday, as well as interact more with the bloggers I follow. My life's gotten really hectic the last part of this year, and that interaction is something that's fallen by the wayside.