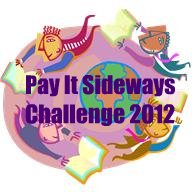 (I read this book as part of the Pay it Sideways Challenge. Join in anytime, we'd love to have you!)
Like many young women in small southern towns, Josey Cirrini's life is structured, planned, and and outwardly perfect. And like many young women, Josey has secrets. It's little things, like the love of a red sweater her mother hates, the candy stashed in her room, and the neighborhood mailman.
But things get complicated when Della Lee Baker, a waitress from Eat and Run, appears in Josey's closet, spouting nonsense about taking risks and eating Josey's candy stash.
Across town, Chloe Finley is in the process of throwing her cheating boyfriend out of the house. She's mad at Jake for cheating on her, but she's also mad at herself for never having her own life. Books with titles like Finding Forgiveness and Old Love, New Direction follow her like lost children, making moving on more difficult.
Can Josey—with Della Lee as her strange Fairy Godmother—overcome her shyness and fear of being her own person? And can Chloe forgive Jake?
A total surprise
Books like this and The Princess Curse make me incredibly glad for things like the Pay it Sideways Challenge. I love being surprised and delighted by books, and it's been a banner week for that.
I was a bit nervous about picking up The Sugar Queen because the review I read said I would enjoy it if I'm into "slightly romantic fluffy reads." Typically I'm not into fluff; but I was glad to discover that this novel was a little bit darker than I thought it would be, and that the fluff was a nice balance to that seriousness.
Both Josey and Chloe are characters with whom I easily identified. Josey because she's constantly afraid (of disappointing her mother, of risking her heart, etc.), and Chloe because she doesn't feel she's taken the time to know herself before jumping into a relationship.
I also came to love the magical elements of the story: Chloe hasn't bought a book since she was 12 because relevant ones always appear when she needs them; Rawley Pelham, who cannot break a promise once he makes it.
The Sugar Queen is a little bit magical, a little bit romantic, a little bit dark, and all kinds of wonderful.
About the recommender
No Page Left Behind is home to Kat, who writes about "all genres of fiction with a few memoirs, non-fiction, and life nuggets thrown in." So far in 2012 she's read some YA, some romance, fantasy, and more. I enjoy her writing style and penchant for using humongous images of book covers. It's nice to see all the details.
Like me, Kat loved The Sugar Queen for its magical undertones and fairy tale feeling. Check out her review here.