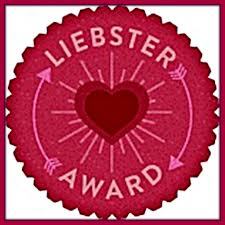 Imagine how excited I was to receive the Liebster Award from Buried Beneath All the Lies! This award is meant to be awarded specifically to great but possibly under-appreciated blogs (fewer than 200 followers).
Award winners must:
List 11 random facts about themselves
Answer the questions that were asked of them (by the blogger who nominated them)
Nominate 11 other blogs for the Liebster Blog Award and link to their blogs
Ask the award-winners 11 questions to answer once they accept the award
Notify the bloggers of their award
11 facts about me
I've just now gotten on the "Arrested Development" wagon. The family is a disaster, and it's hilarious.
I just read Bill Bryson's In a Sunburned Country and now I want to visit Australia.
I have my husband labeled as "Mr. Darcy" in my phone.
Laughing is my favorite thing in the world.
I've been doing yoga for about a year now, and I love it. It's done more for my health and stress level than I ever thought possible.
I'm hopeless when it comes to fashion. It renders me paralyzed with indecision.
I watch way more Food Network than is probably healthy.
My laptop is named Buffy. Because she's a badass.
I still can't decide if the 10th or 11th Doctor is my favorite.
I love my job and the people with whom I work. I'm so lucky.
Cleaning and organizing makes me feel better. I thought about being a professional organizer for a living.
Questions from my nominator
Why do you blog (about books)? I've always been a reader, but I wanted a way to talk about what I'm reading with other book lovers.
If you could be any book character for a day which would it be? I'd be Katsa from Kristin Cashore's Graceling. She's very different from myself, and I'd like to experience it for a day.
If you could live in any fantasy world, eg Middle Earth, Westeros, Hogwarts, which would it be? Hogwarts, hands down. J.K. Rowling has created a wonderful world, and I'd love to spend time in it.
What is the book you have re-read the most? As a young adult, probably Jane Austen's Pride and Prejudice. As a kid I read the Little House on the Prairie books over and over again.
What was the first book you ever read by yourself? Probably one of the ever-present Little Golden Books.
Is there a book that has had some significance in a past relationship? My mother and I have always bonded over books. She passed her love of reading on to me, and if we can't talk about anything else, we can always talk about what we're reading.
Do you read more when you are happy or sad? I've never really thought about it, but I think my feelings have more of an effect on what I read than how much I read. If I'm sad I read more escapist/fantasy stuff; if I'm happy I read everything.
What time of day is your favorite reading time? Definitely lunchtime. There's a nice lounge area at my office, and I've come to love my midday reading break.
If you could go back and un-read a book, which would it be? Most recently? Ugh, The Elegance of the Hedgehog. Awful.
If you could go back and read a book for the first time, which would be it be? Pride and Prejudice.
Has there ever been a time in your life that you stopped reading, for whatever reason? Only when I got so busy with critical things (like school or work) that I didn't have free time.
I nominate…
eclectic/eccentric
Questions for winners
What is your favorite word?
What book do you most associate with your childhood?
Dog-ear or bookmark?
Your thoughts on e-readers?
Favorite banned book?
If you decided to get a bookish tattoo, what would it be?
What genre do you like least?
Favorite reading spot?
What book do you recommend most to others?
How close is the nearest library, and do you have a card?
Are you a member of a book club? Do you enjoy it?
And now off to let the winners know they're up! Thanks again to Buried Beneath All the Lies for nominating me!