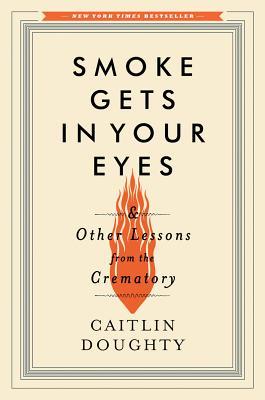 Working in a crematory is not a job many people would consider. But for a recent graduate with a degree in medieval history and a love of the macabre, it's the perfect career.
Smoke Gets in Your Eyes: And Other Lessons from the Crematory is Caitlin Doughty's memoir about her years in the funeral industry, and catalogues her growing uncertainties with Americans' cultural practices and feelings surrounding death.
An honest look at a tough topic
In many ways I consider myself extremely fortunate to have little experience with death. Even Doughty — who is most famous for her Ask a Mortician web series — discusses the discomfort it gives her.
On the other hand, I agree with Doughty's philosophy of openness and frank discussion. As humans we fear what we don't know, and the only way to learn more about death is to talk about it, write about it, and read about it.
Knowledge is the only weapon we can use to empower ourselves to leave this world on our own terms.
Chronicling a transformation
Smoke Gets in Your Eyes wasn't exactly what I expected. I thought I'd read about exactly what happens during a cremation and embalming, and how more and more people consider the funeral industry to be a rip-off.
I did read these things, but I also got a firsthand look at Doughty's transformation from pie-eyed recent grad to horrified first-timer to detached crematory operator to budding death activist. In fact, I wanted more of this — I wanted to know more about how she founded the Order of the Good Death, and what her future plans are.
Let's talk about death!
Death is one of the three no-no topics of discussion at parties (the other two being death and politics), and like Doughty I think this needs to change. We have to be honest with ourselves and others, especially when it's about how we wish our own remains to be treated.
So, deathlings, go forth and talk about death with your partners, parents, and friends. And definitely check out the Order of the Good Death and Smoke Gets in Your Eyes!