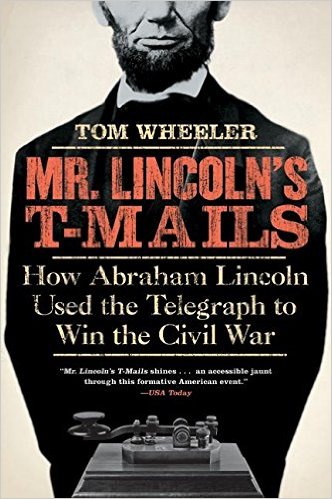 Every day we send billions of emails, countless text message, and use the internet to access news and information. It's difficult to imagine a world in which instant communication does not exist. But it wasn't really that long ago when getting anything but the most local of news required waiting weeks or months for a newspaper or a traveler to arrive in town.
When the first telegraph was sent in 1844, most people considered it a marvelous but impractical technology. The signal couldn't travel far without help, it required installing thousands of miles of tubes, and there simply wasn't any information that was so important that it needed to be transmitted quickly.
It wasn't until almost 20 years later that the true power of the telegraph would become clear: our 16th president, Abraham Lincoln, would use it to help win the American Civil War.
"What God hath wrought!"
Much like his presidency, Lincoln's experience with the telegraph began on a low note: he sent fewer than 20 telegrams in 1861, preferring to communicate by mail (even during the Fort Sumter conflict).
But as the war dragged on and Lincoln found himself saddled with incompetent military leadership, he began using the new "lightning messages" to direct his generals and the movement of the Union Army in a way his predecessors could never have imagined.
It's no secret that I love Abraham Lincoln. Not only did he struggle with the same anxiety I do, I think his leadership style is something we should emulate (seriously, read Team of Rivals and then tell me bipartisan cooperation is impossible). It was so fun to read more about this specific aspect of his leadership.
At its root, Mr. Lincoln's T-Mails is a deep analysis of Lincoln's leadership method — known today as "Management-by-Walking-Around" — and the three stages of his use of the telegraph to lengthen his reach.
Author Tom Wheeler describes these stages in detail, showing how Lincoln relied on telegrams (as well as letters and in-person visits) to speak to his generals, keep track of their conversations with each other, and suggest battle strategies and troop movements. Never before had a president been in such close, constant contact with his military leadership.
It's also likely, states Wheeler, that part of the reason the Confederacy lost the war was because they were unable to take advantage of the same near-real-time communications Lincoln and the Union Army were. The Southern states believed in autonomy, even from each other, and so avoided adding the amount of telegraph stations and tubes installed by the Northern states. They simply couldn't communicate as efficiently across the Confederacy as their enemy could across the Union.
Mr. Lincoln's T-Mails is an intriguing look at Lincoln and how he adapted to and harnessed a new medium during one of the most tumultuous times in American history.