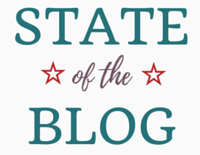 I love being able to take a step back and see how I'm doing in my reading. However, once a month seems a bit excessive, so I'll dial it back to a few times a year. Let's dive in, shall we?
First, the basics
Books read since January 1 – 25
Pages read – 9,093
Books reviewed – 18
Books not enjoyed – 9
Genre breakdown
Fiction – 21
Non-fiction – 4
YA – 7
Dystopian – 2
Graphic Novel – 2
Audio book – 1
ebook – 2
Classic – 2
Reading Challenges
Some thoughts
As usual, fiction is winning by a landslide — non-fiction just isn't something toward which I naturally gravitate.
I'm officially hooked on ebooks. So much for my principles.
Maria V. Snyder is my new favorite author!
So far I'm doing pretty well with my 2011 blogging resolutions, especially my resolution to comment on more book blogs. It's led me to lots of great bloggers, and has lengthened my wishlist considerably.
What's also brought me lots of new friends is my participating in Notable Quotables and Top 10 Tuesday. Love me some memes!
Looking ahead
There's lots of fun stuff in the works, including another notch in my Gothic Reading Challenge belt, a review of a fantastic children's classic, a healthy dose of reality, and maybe some sociological/cultural ramblings. Only time will tell.
It's been a fabulous year so far, and I can't wait to enjoy more great reads!
How's your reading going? Do you have a yearly plan, or do you just wing it? Am I the only one who really likes knowing how many pages I've read?
Image: stock.xchng