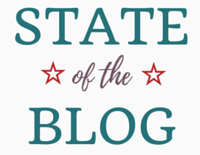 Another quarter, another State of the Blog post! The summer season is coming to a close, we've finally gotten some rain (thank heavens!), and it hasn't been over 100 degrees in…four or five days, maybe?
As you might have guessed, I spent most of the summer inside. Here's how I spent that time.
First, the basics
Books read since July 1 – 24
Pages read – 8,003
Books reviewed – 19
Books not enjoyed – 6
Library books – 6
Re-reads – 2
Genre breakdown
Fiction – 21
Non-fiction – 3
YA – 2
Classic – 1
Dystopian – 1
Period Novel – 6
Adventure – 7
Mystery/Thriller – 6
Paranormal/Supernatural – 3
History – 2
Fantasy – 4
Reading Challenges
Gothic Reading Challenge: 7/10
Some thoughts
This year I've been averaging a little more than eight books per month. I knew I read a lot, but I've never been able to put a monthly number on it before. It's kind of cool.
I semi-participated in the @1book140 read-along of Marie Phillips' Gods Behaving Badly.
I gushed about the glories of Sacred Harp singing after participating in my first big singing (the next is at the end of October in Austin, Texas).
One of the world's oldest stories (and its awesome themes) finds it way onto my shelf.
Looking ahead
I'm in the middle of Jesse Petersen's Living with the Dead series. At first I was kind of put off by the level of gore, but the second book doesn't seem to have as much of that as the first (at least it doesn't seem like it), plus it's a great story.
I'm going to see if I can read Joe Hill's Heart-Shaped Box for @1book140's October "scary read." I'm a wuss, though, so we'll see how it goes.
I haven't been able to make it to the library in quite awhile, so it's time to start getting back in the habit. Thank goodness for well-stocked, free public libraries!
How's your reading been going these past few months? What are you most looking forward to in the latter part of the year?