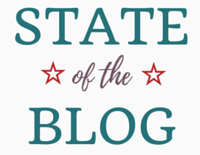 Why is it so freaking hot? Let's drown our sorrows in books.
The basics
Books read since January 1: 28
Pages read: 9,522
Books reviewed: 20
Books not enjoyed: 3
Books not finished: 0
Library books: 14
Ebooks: 6
Audiobooks: 0
Genre breakdown
Fiction: 15
Non-fiction: 13
Fantasy: 2
History: 6
Memoir: 2
Mystery/Thriller: 12
Paranormal/Supernatural: 3
Young adult literature: 2
Children's literature: 1
Reading challenges
Charity Reading Challenge: 28 books read
Monthly Motif Challenge:  6 of 12
Off the Shelf Reading Challenge: 2 of 9
Check out my reading challenge progress.
Some thoughts
I'm loving book club! I can't believe it took me so long to join one.
I've read more ebooks in the last six months than I did in all of 2016. I blame reading challenges and book club, as well as my book buying ban. And I still prefer the real thing.
We're moving in — holy shit — a day and a half. Almost everything is in boxes, but thanks to the Pre-Move Purge we've got fewer DVDs, books, clothes, and dishes to schlep across town. It feels so good to toss out trash and donate good items to people who will use them.
Looking ahead
I asked for and got some lovely books for my birthday. I'm excited to jump into those once we get moved and settled.
I'd like to make some more progress on my reading challenges, especially Off the Shelf.
Where the hell am I going to get a fourth story idea for The Write Stuff?
How's your reading going this year?